According to Marko
Graduation book
According to Marko is the graduate work made during 2005 at the Art Academy of Novi Sad. The collection consists of two intertwined series: series of poems and series of illustrations that interchange as dominant parts by different chapters, one at the expense of the other. The collections consists of eight chapters: Belaj, ArtFood-EatArt, Square, Sound, According to Christ, Artistic-Private, Piano and 1st May 1982. The book was printed in 7 copies. At the graduate exhibition in the Gallery of Matica srpska, on 17th June 2005, Stojanovic was presented to the public with this book and won the award of Art Clinic for most promising student - Perspectives4.
Po Marku Diplomska knjiga Diplomski rad Po Marku realizovan je tokom 2005. godine na Akademiji umetnosti Novi Sad. Zbirka je sačinjena od dva upletena niza: niz pesama i niz ilustracija koji se smenjuju u dominiciji po poglavljima, jedan na uštrb drugog. Zbirka sadrži osam poglavlja: Belaj, ArtFood-EatArt, Kvadrat, Zvuk, Po Hristu, Umetničko-privatno, Klavir i 1. maj 1982. Knjiga je otštampana u sedam primeraka. Na diplomskoj izložbi u Galeriji Matice srpske, 17. juna 2005. godine, Stojanović predstavljen ovom knjigom, dobija nagradu žirija Art klinike za Najperspektivnijeg studenta – Perspektive4.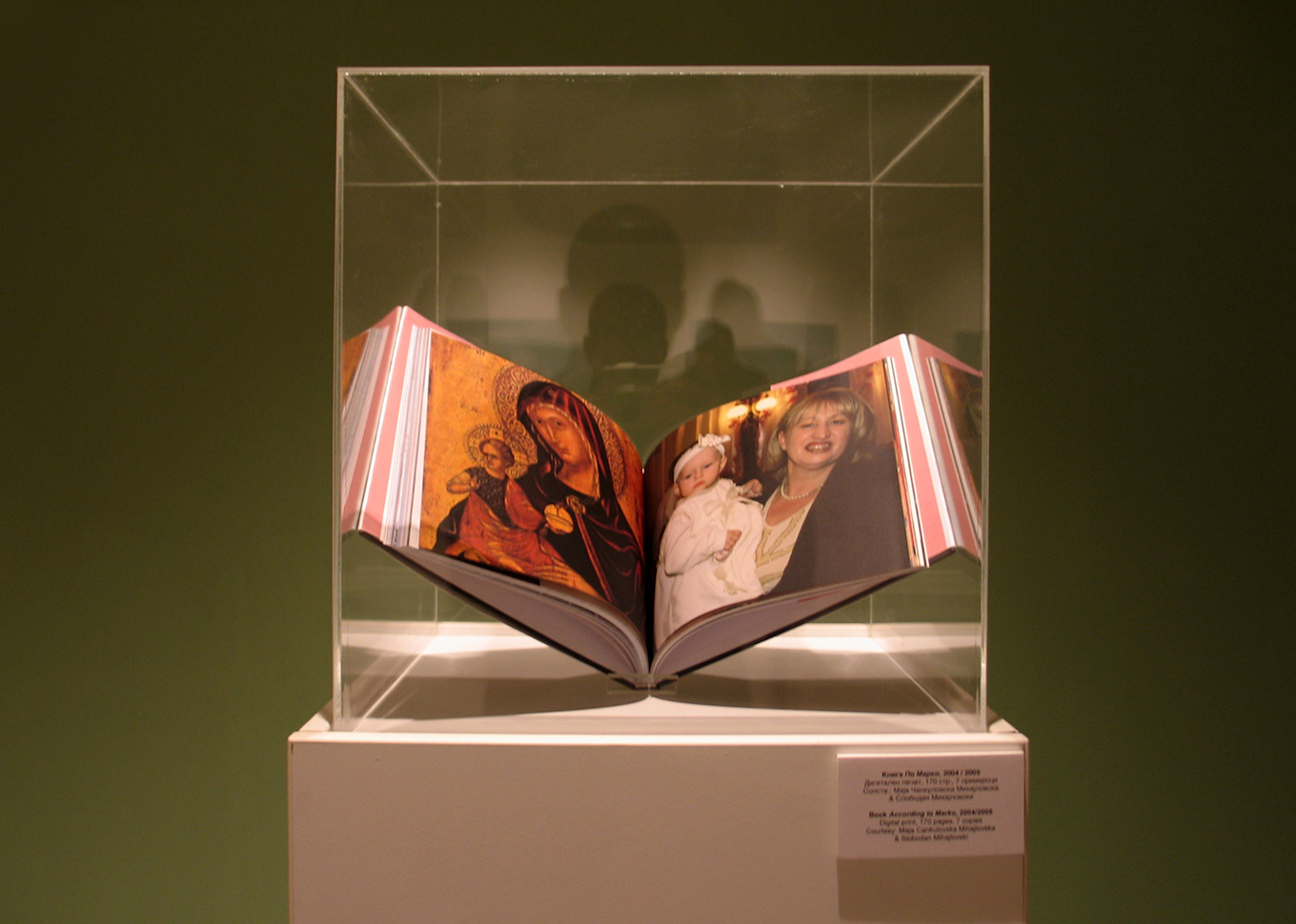 According to Marko, Museum of Contemporary Art, Skopje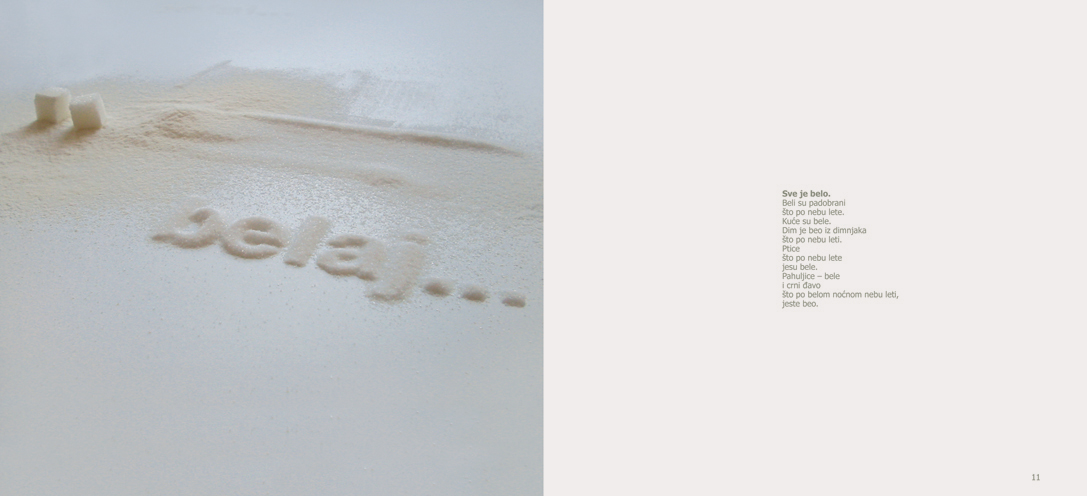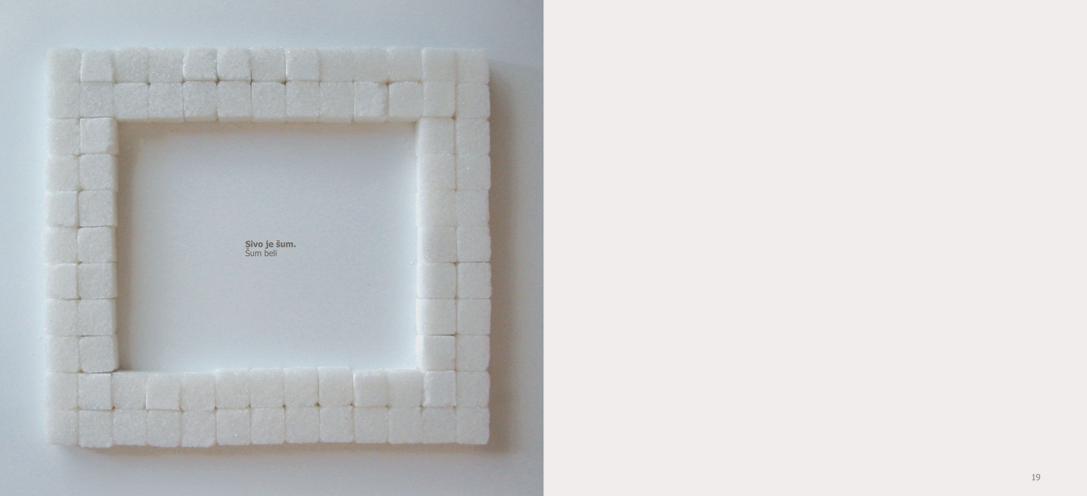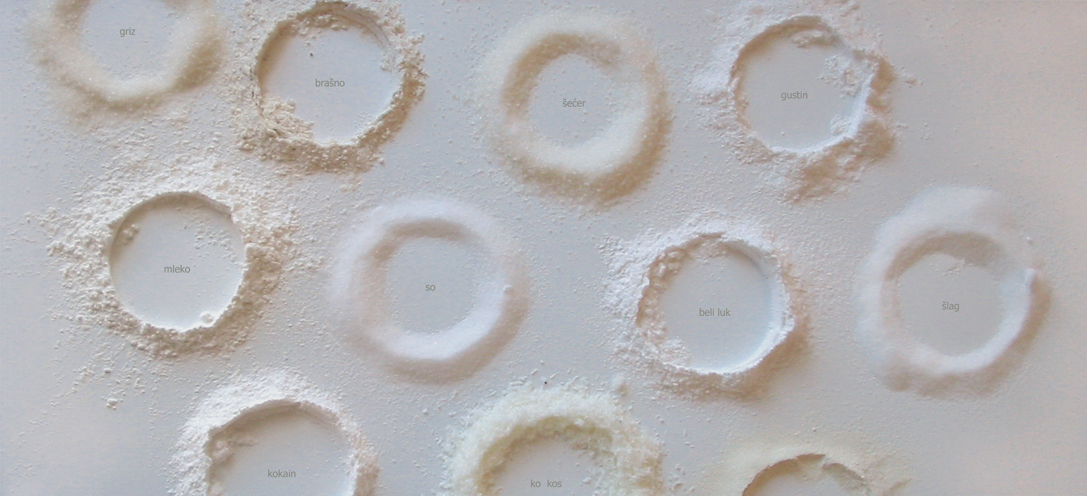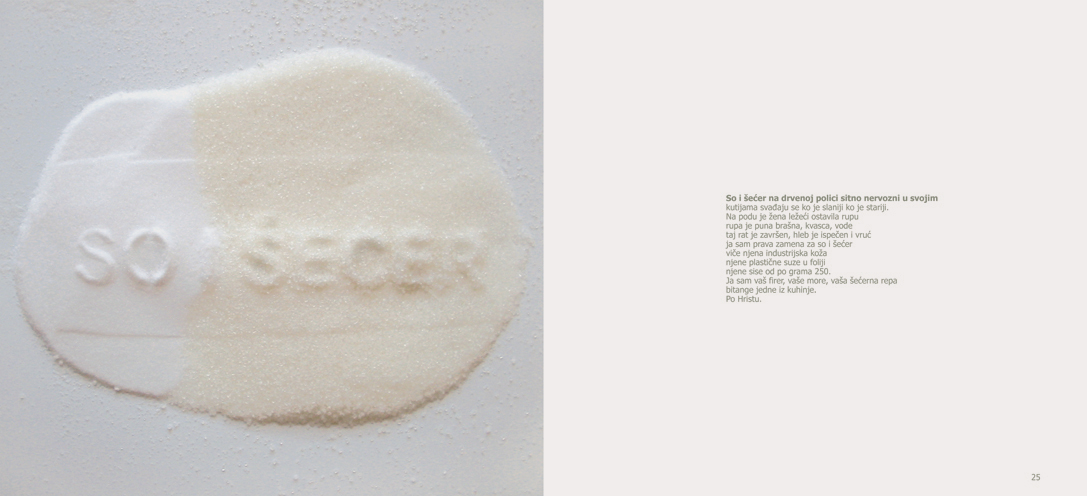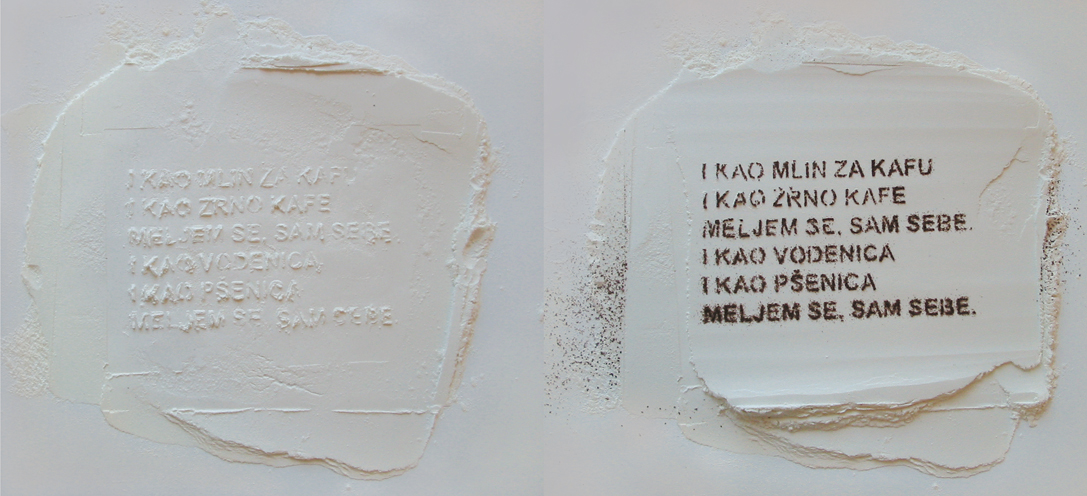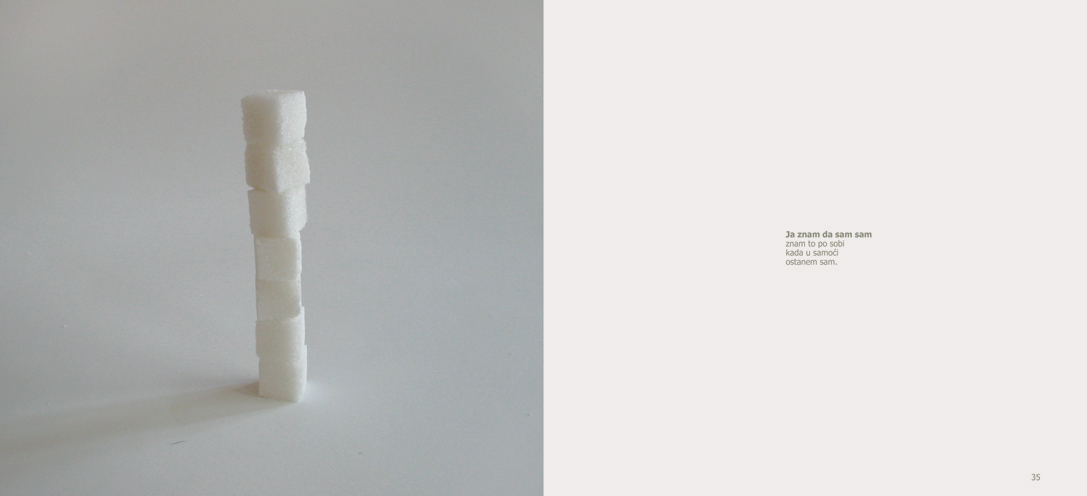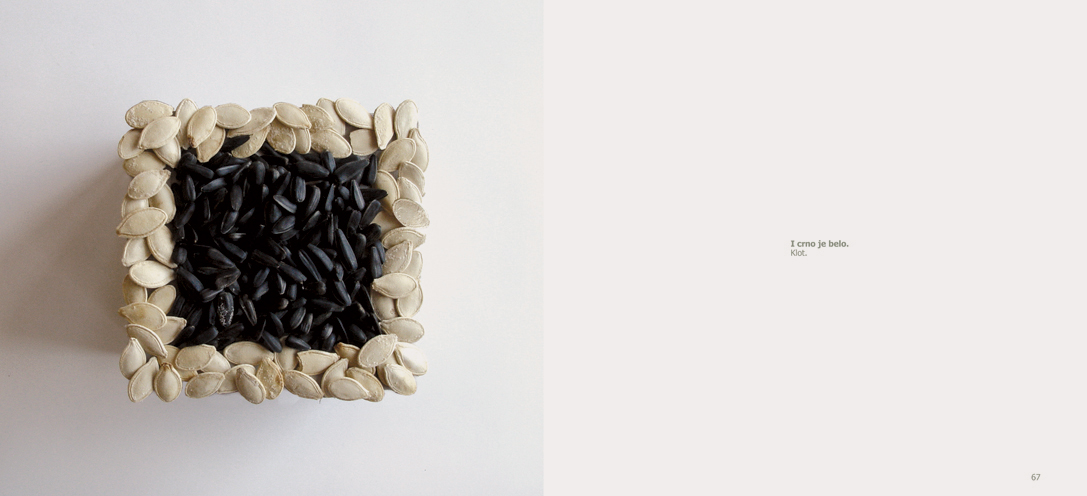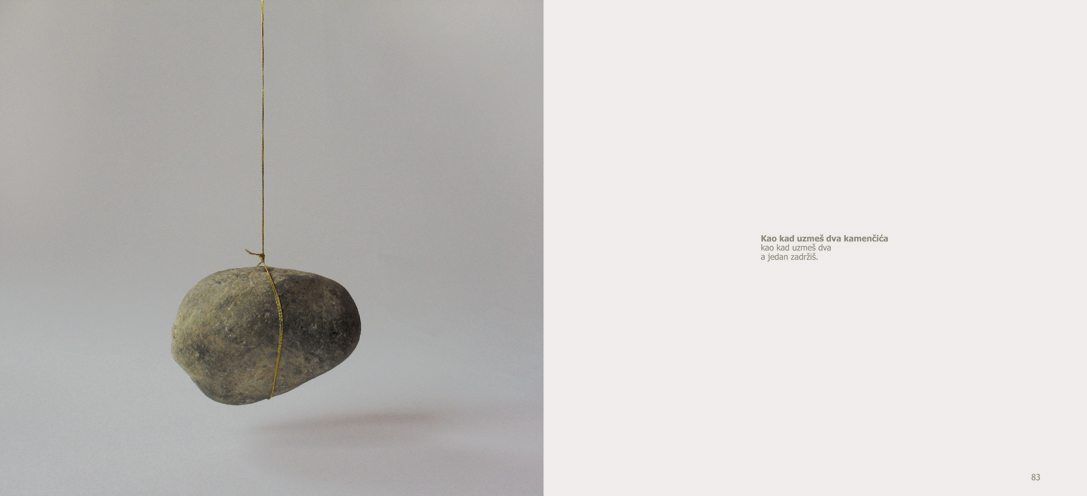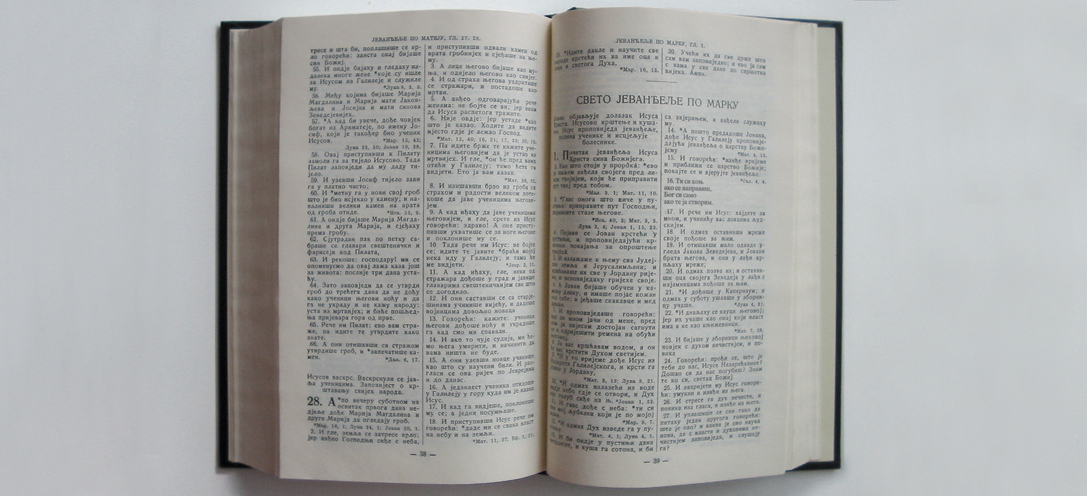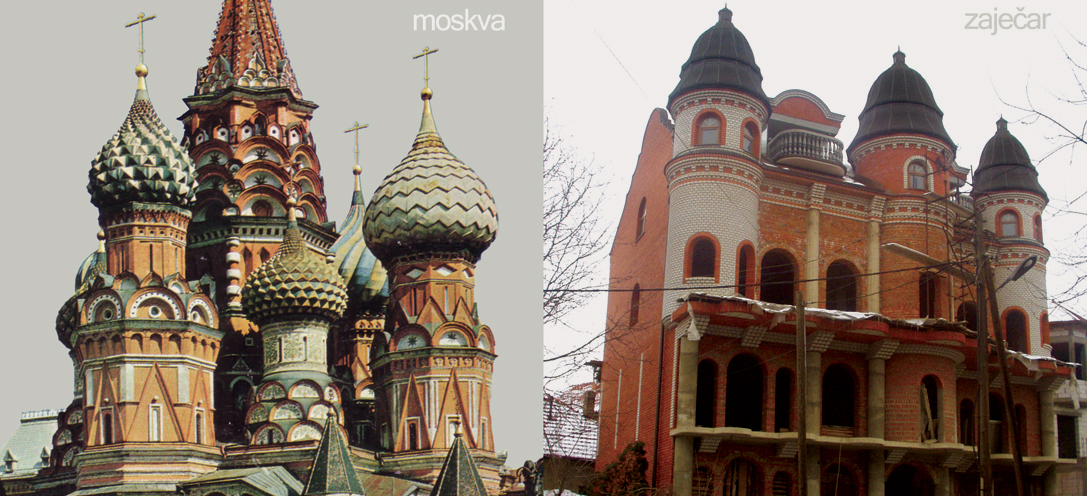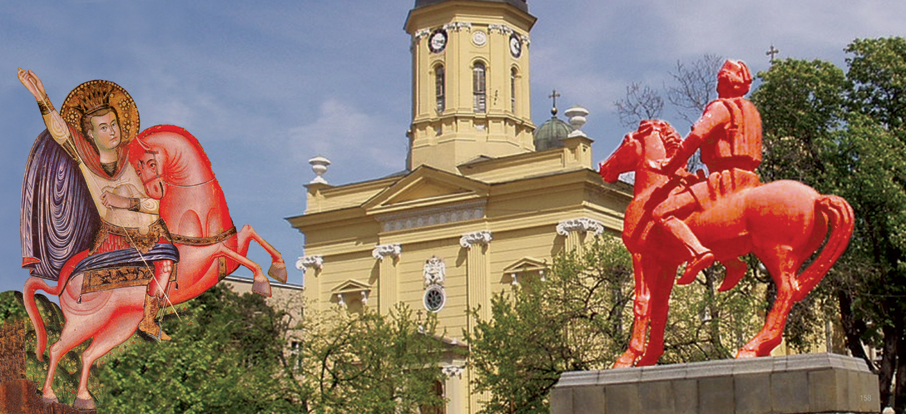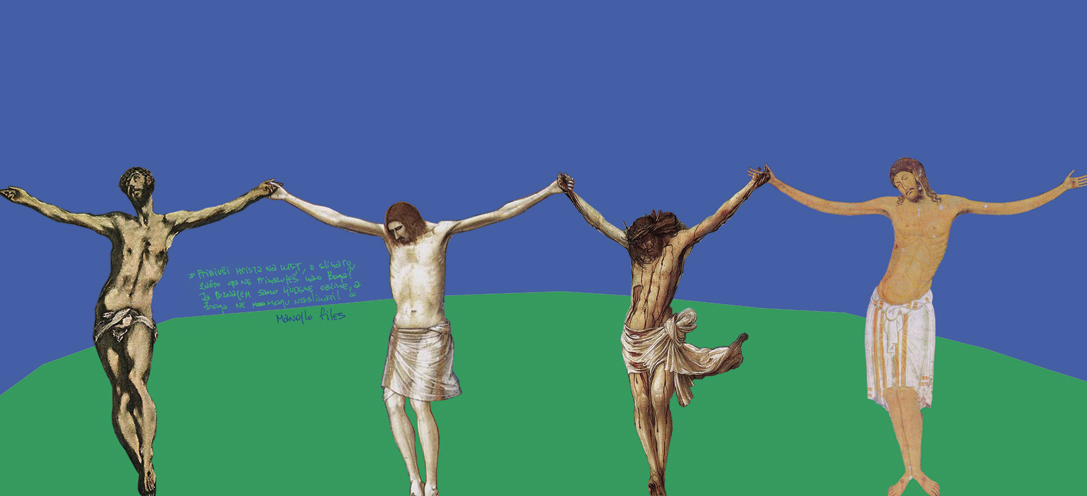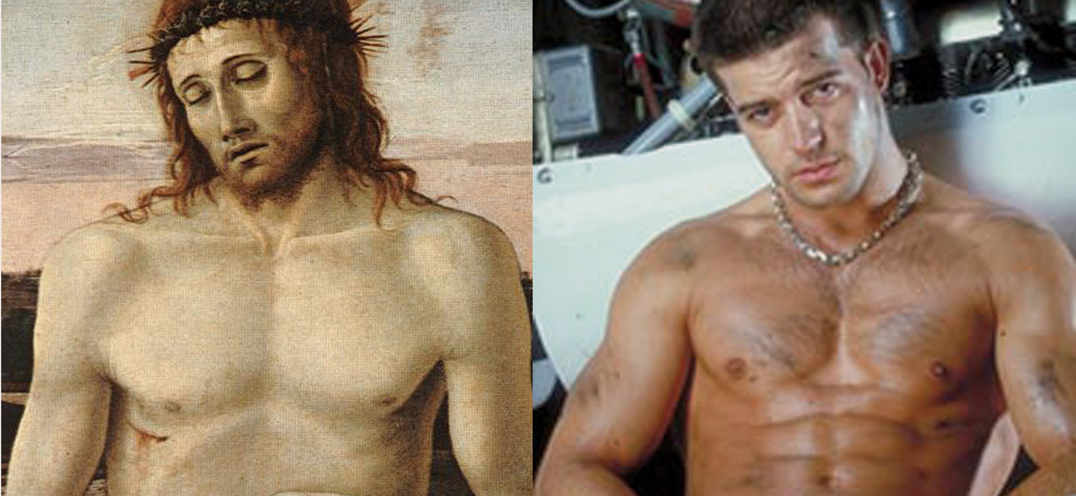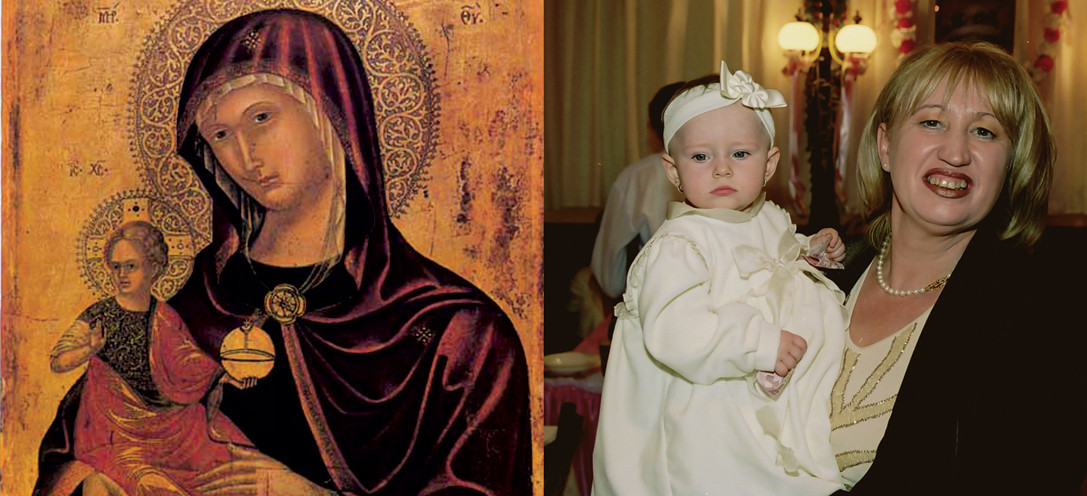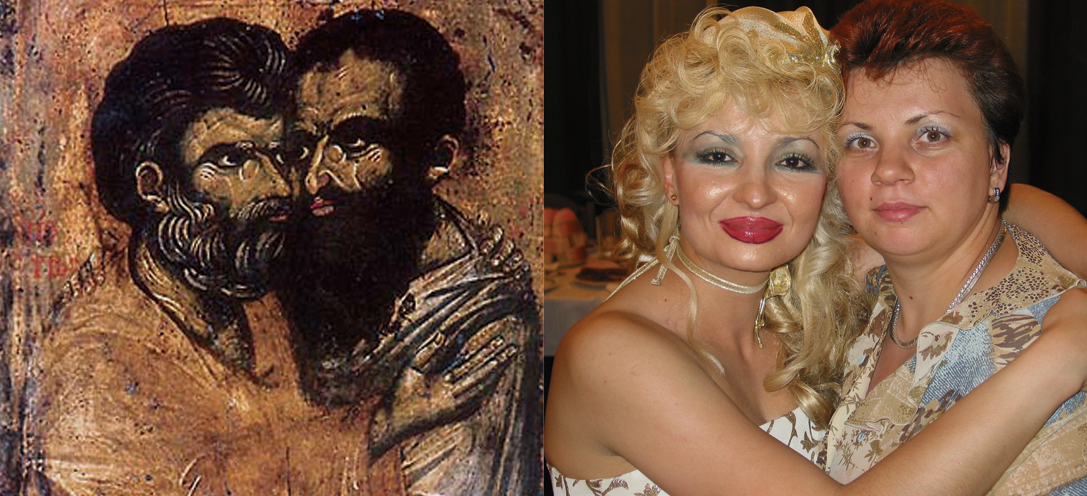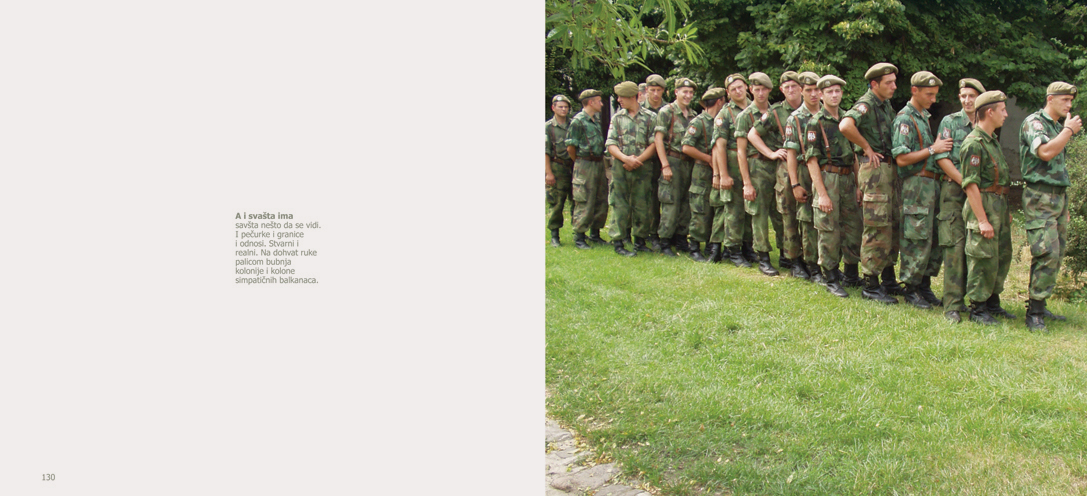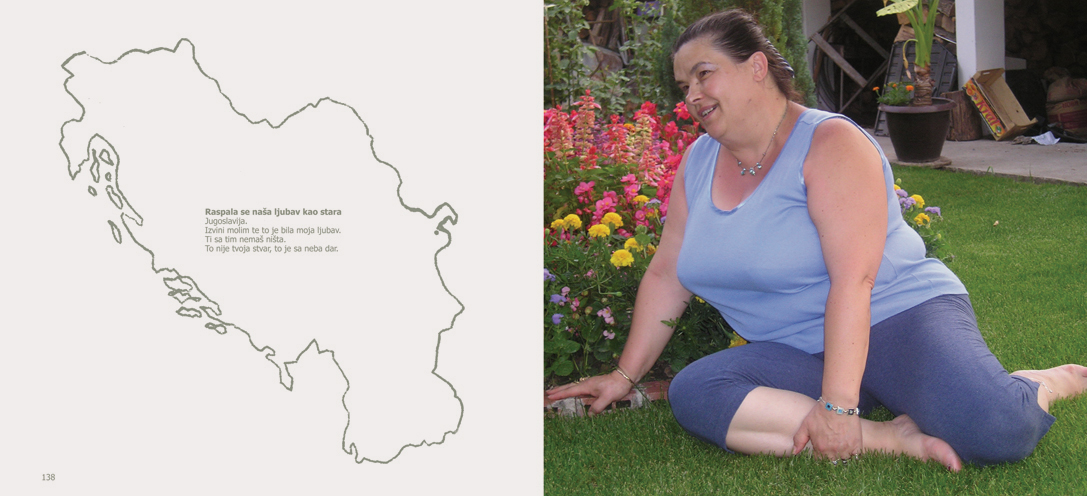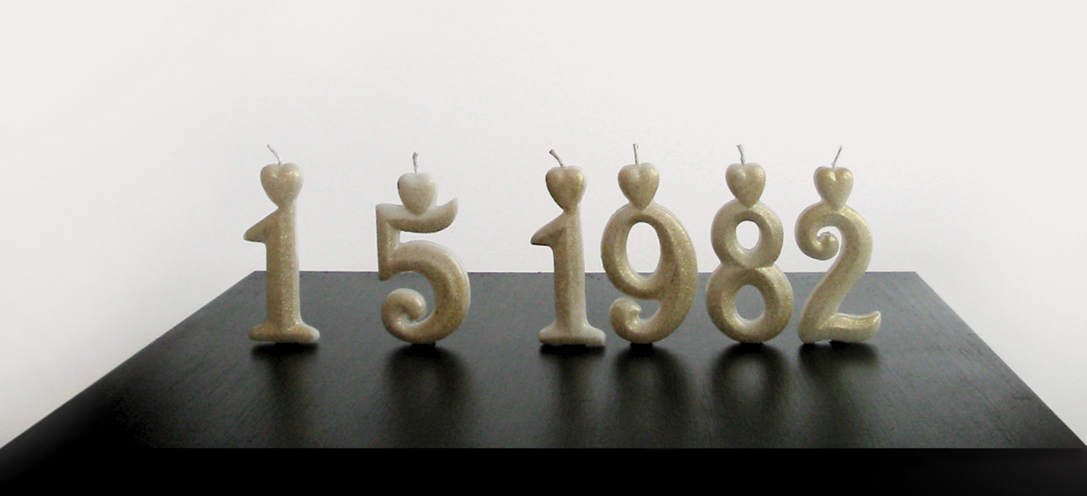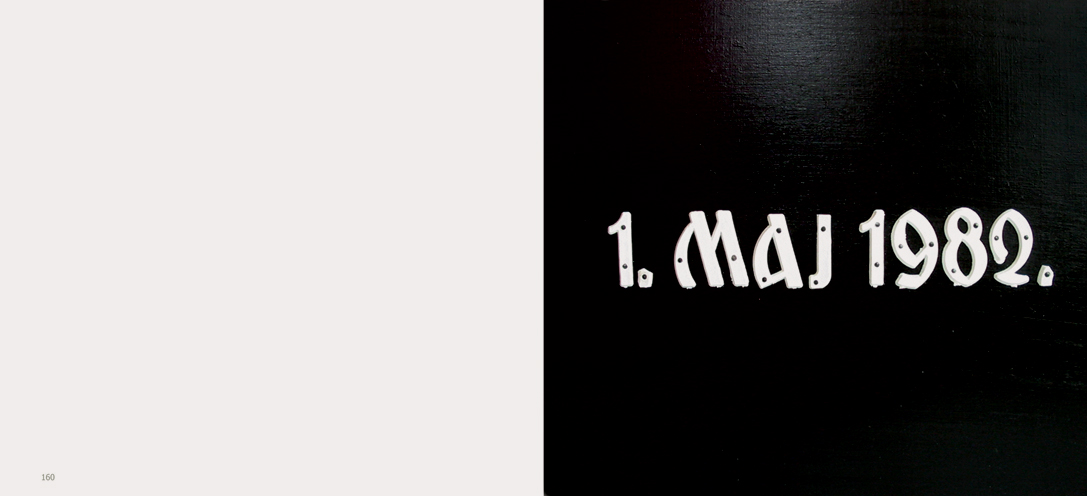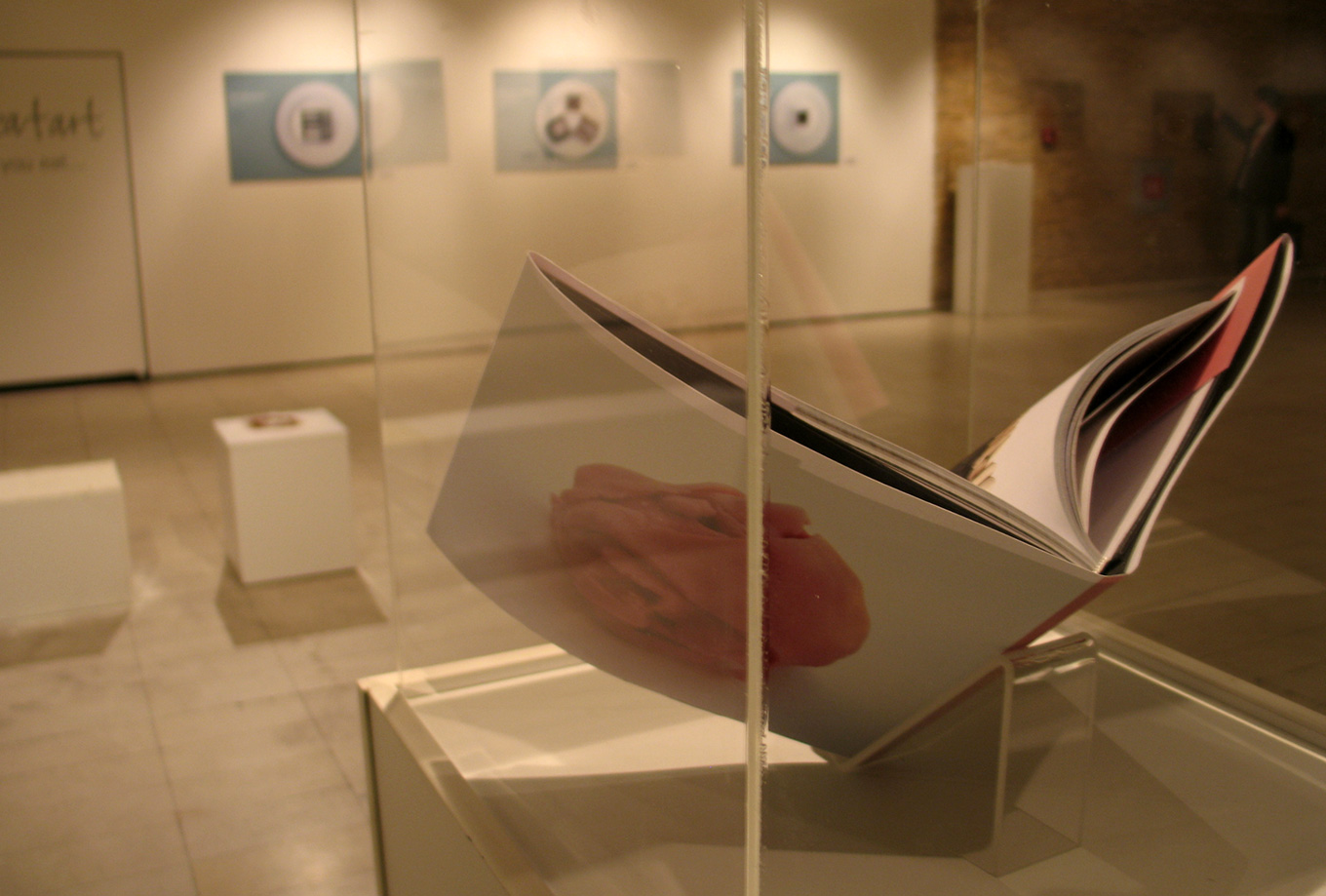 Marko Stojanovic continues the re-interpretation of tradition in his book According to Marko, which is a collection of poems and illustrations. Its title is an allusion to the New Testament, but the name Marko does not apply to Mark the Evangelist, but to the artist Marko Stojanovic. In the eight chapters of According to Marko the artist moves and/or erases borders: the borders between white substances and the ground they are placed upon (salt, sugar, flour…) in the first chapter; the borders between artists' materials and culinary ingredients in the cycle Art Food – Eat Art, in which 20th century works of art become cookies; borders between collective and individual art (designing a tapestry with a motif taken from Malevich); between the sacred and the profane in the chapter According to Marko; between the intimate and the public, the decent and the indecent, the ugly and the beautiful in the chapter The Artistic in Private; and between birth and death in the eighth and last chapter.
In most of the chapters of According to Marko, Stojanovic re-interprets and parodies or annihilates the dichotomy between the body and the spirit. This dichotomy has been constantly present in European thought since the time of Plato. Some of Plato's attitudes are presented in his work Phaedo. According to Plato, the body possesses its own consciousness: "pleasures that come from the body" (65a7), "the body and its desires" (66c7), the soul can "share thoughts and pleasures with the body" (83g7) which can make it "take as true all that the body claims is so" (83d6). But the real attitude to be taken by the soul is that "it should not pay attention to anything that comes from the body" (65a7), since the purpose a human being should achieve is "to free the soul as much as possible from its association with the body" (65a 1-2). The relation between the soul and the body is paradoxical; on the one hand the soul "manages the body and it is its master" (80a94b-g); on the other hand, the soul is "imprisoned" in the body (82e – 83a).
In the lecture he delivered at the College de France on January 13th 1982 and later included in his book The Hermeneutics of the Subject, Michel Foucault tries to make clear the relation between the subject and the body according to Plato as presented in Alcibiades , where Plato expresses quite a different attitude concerning the soul, one quite different from "the soul imprisoned in the body" that should be freed, as in Phaedo; there is nothing in common with the soul's winged steeds that we should drive in the right direction, as in Phaedrus; nor is it the soul built according to the hierarchy of instances which should be harmonized, as in The Republic. Starting from the advice given to Alcibiades by Socrates – "Know yourself!" (Plato, Alcibiades: 124b), which is followed by: "we should be concerned with our soul"(Alcibiades: 132c), Foucault begins his analysis of Alcibiades (129 b-130c).With this advice Socrates leads Alcibiades towards recognizing what "self" means, setting out from the question which means "Socrates is talking to Alcibiades", i.e. who is it that is talking to Alcibiades?, an issue which, according to Foucault, is of particular importance, since in its essence it is the issue of the subject. Socrates, separating the talking subject from the act of talking as well as all the other elements accompanying that act, with the intention of "showing the subject in its irreducibility", numbers a sequence of actions where the subject can easily be distinguished from the instruments it uses while performing an action. This it is how Foucault summarizes Plato's principles: "What do we do when we observe something? We use our eyes, i.e. there is an element which uses the eyes. In general, when the body does something this means that there is an element that uses the body. But which is that element that uses the body? Obviously it is not the body itself, since the body cannot use itself. Shall we say that the one who uses the body is the man, man perceived as a union of body and soul? Of course not. Because even as a simple integral part, even assuming that it is next to the soul, the body, even as a supplementation, cannot be the one that uses the body. Only the soul remains to use the body as an object." Thence, according to Foucault, in Plato's works (at least in Alcibiades) the soul-body relationship is a subject-object relationship, "the soul as something that uses the body, the bodily organs and instruments." Such a dichotomy between the body and the soul has been maintained to the present day in European philosophy, although there have always been authors who advocate the abolition of this dichotomy and the approximation of binary oppositions to the point of their disappearance. At the very beginning of her book Volatile Bodies, Elizabeth Grosz stresses that this is an act against dualism, against the perception of the physical and mental, body and mind, as things that exclude each other. She also suggest that there is no a sharp border between them, because they form the subject together. "The body has the whole explanatory power of the mind", says Grosz, since " all the consequences of subjectivity, all the important aspects and complexities of the subjects, can be adequately explained if we use the corporality of the subject as a framework where the conscious or the unconscious can be used". Yet the basis of the Western theoretical interpretation of the body, at the beginning of which stands Plato, is dualism and its somatophobia, which already has been discussed. The dualistic perception continues in the Christian theological tradition too, where the dichotomization of the body and the soul is constantly linked to the mortal and immortal, and this kind of union of the body with the mortal, i.e. the soul with the eternal, is seen personified in Jesus, who for theological thought, says Grosz, "was a man whose soul, whose immortality originated from God, but whose body and mortality are human".
Playing with the body/spirit dichotomy, in According to Marko Stojanovic brings the spirit closer to the mortal and the body to the immortal. In the illustrations to this book, placed side by side, opposed (or maybe "closer") there are the exhausted countenance of an icon and a strong male body from some erotic magazine. Stojanovic takes Jesus down from certain artists' canvases and, multiplying him, presents him as a dancer, in a composition that is close to Matisse's The Dance. In the book there are a couple of saints and a homosexual couple side by side, as well as the icon of St. Demeter and the monument to Hajduk Veljko.
In his works Marko Stojanovic carries out a demystification and re-interpretation of history and the collective memory. The whole tragedy of the Danish prince is marked by the urge to remember; the spirit demands that Hamlet remembers him ("Remember me" 1.5.111) and does not forget ("Do not forget" 3.4.110), but in that emphasizing of remembrance Hamlet should forget himself – his existence should be transformed into remembering his father and avenging his death. This is a metaphor for the debt that each generation owes to its ancestors, where the right to one's own choice of existence is sacrificed – and where very frequently the present should be forgotten and the future be created in the name of ideals (and quasi ideals) from the past. Hence the works of Marko Stojanovic are an appeal for the reconstruction of remembrance, for its change, for a different reading of the lessons of the past, and are thus acts which do not merely satisfy lofty aesthetic criteria but also call for a different approach to our own future as compared to the past, a different approach to ourselves, since they also incorporate the ethical, which is in close relation to Marina Abramovic's maxim: "Art without ethics is merely cosmetic!"
Goce Smilevski
Translation: Gulnihal Ismail; Lecturer: Peggy and Graham Reid

Sa reinterpretacijom tradicije, Marko Stojanović nastavlja i svojim delom, knjigom "Po Marku", koja predstavlja zbirku pesama i ilustracija. Sam naslov je aluzija na jevađelja iz Novog Zaveta, gde se ovde ime i naslov ne odnose na jevađelistu Marka, već na umetnika Marka Stojanovića. U osam poglavlja knjige "Po Marku" umetnik pomera ili briše granice: granice između belih materijala i osnove na kojoj su postavljeni (so, šećer, brašno… u prvom poglavlju); granice između umetničkog materijala i produkta od koga se prave jela, u ciklusu ArtFood-EatArt, gde se dela iz moderne umetnosti dvadesetog veka pretvaraju u kolače; granice između kolektivne i individualne umetnosti (izradio je šemu za goblen sa motivom Maljevičevog dela); između sakralnog i profanog u poglavlju "Po Hristu"; između intimnog i javnog, doličnog i nedoličnog, ružnog i lepog u poglavlju "Umetničko u privatnom"; između rađanja i smrti, u poslednjem, osmom poglavlju.
Najveći deo poglavlja "Po Hristu", Stojanović reinterpretira, parodira i/li poništava dihotomiju telo/duh. Ova dihotomija je stalno prisutna kao evropska misao još od Platona. Jedan deo stava o telu Platon je izneo u svom delu Fedon. Prema Platonu, telo poseduju svoju svest: "zadovoljstva koja dolaze preko tela" (65a7), "telo i njegovi prohtevi" (66b7), duša može "da deli misli od zadovoljstva tela" (83g7), šta u suštini može da je navede "da ga uzme za istinito sve što telo tvrdi da je tako" (83g6). No, istinski pravi stav koji duša treba da zauzme je "da ne obraća nikakvu pažnju na ono što dolazi od tela" (65a7), budući da je cilj koji treba da postigne jedno ljudsko biće je "zatvorenik" u telu (82e83a).
Na svom predavanju održanom na Kolež de Frans, 13. januara 1982. godine, kasnije uvršćenom u njegovu knjigu Hermeneutika subjekta, Mišel Fuko, između ostalog, pokušava da razjasni relacije subjekta i tela po Platonu, i to onako kako je to objašnjeno u Alkibijadu, gde postoji jedan poseban odnos Platona prema duši, sasvim različit od "duša zarobljena u telu", koja bi trebala biti oslobođena, kao uFedonu: "nema ništa zajedničko sa dušom krilate zaprege koju treba da vodimo u dobrom pravcu, kao u Fedru; nije to ni duša izgrađena po hijerarhiji instancija, a koju treba da uskladimo kao što stoji u Državi". Polazeđi od saveta Sokrata, koji daje uAlkibijadu: "Spoznaj samog sebe" (Platon, Alkibijad, 124b), od čega sledi da "treba da se bavimo svojom dušom" (Alkibijad, 132v), Fuko započinje analizu dela Alkibijadod 129b do 130v. U njemu Sokrat vodi Alkibijada do spoznaje šta znači to "sebe", polazeći od pitanja šta znači "Sokrat govori Alkibijadu", odnosno ko je taj koji govori Alkibijadu, pitanje koje je za Fukoa od posebnog znacaja, budući da je u suštini pitanje o subjektu. Sokrat, subjekt koji govori o činu govorenja, kao i o svim elementima koji podržavaju čin govorenja, sa namerom da "pokaže subjekt u svojoj nesvedenosti", navodi niz dejstava u kojima se subjekt lako razlikuje od instrumenata kojima se služi dok vrši izvesno dejstvo. Ovako Fuko rezimira Platonove postavke: "Kada nešto posmatramo, šta radimo? Služimo se očima, tj. elementom kojim se služi oko. Uopšte, kada telo radi nešto, koristi element kojim se služi. No, koji je taj element koji koristi telo? Očigledno da to nije samo telo, budući da telo ne može da koristi samo sebe. Da li možemo reći da je onaj koji upotrebljava telo sam čovek, čovek shvaćen kao sjedinjenje tela i duše? Svakako ne. Jer, i kao prost sastavni deo, i pod pretpostvakom da se nalazi pored duše, telo ne može, ni kao dopuna da bude ono što služi telu. Ostaje jedino da duša bude ona koja će se služiti telom, kao predmetom". Odatle, prema Fukou, kod Platona (barem uAlkibijadu) odnos duša-telo je odnos subjekt-objekt, "duša kao nešto što se služi telom, telesnim organima, kao instrumentima". Ovakav dualizam duše i tela u evropskoj filozofiji se zadrzao do danas, mada su uvek postojali autori koji su se zalagali za ukidanje ove dihotomije, za zbližavanje binarnih opozicija i njihovo ukidanje. Na samom početku svoje knjige Neuhvatljiva tela (Volatile Bodies),Elizabet Gros potencira da je njeno delo protiv tog dualizma, protiv shvatanja fizičkog i mentalnog, tela i uma, kao nešto što se međusobno isključuje. Ujedno, sugeriše da ne postoji jasna granica između njih, jer oni zajedno formiraju subjekt. "Telo sadrši sva objašnjenja moći uma", kaže Grosova i, saglasno s tim, "sve posledice subjektivnosti, svi važni aspekti i kompleksnosti subjekta, mogu biti adekvatno objašnjeni koristeći telesnost subjekta kao ram u koji bi se smestilo svesno i nesvesno". Ipak u osnovi zapadnog teorijskog objašnjenja tela, na čijem početku stoji Platon, je dualizam i njegova somatofobija o kojoj je bilo reči. Dualističko tumačenje se produžava u hrišćansko-teološkoj tradiciji, gde se dihotomizacija duha i tela neprestalno dovodi u vezu sa smrtnošću i besmrtnošću, a ovakve povezanosti tela sa smrtošću, odnosno duše sa vecnošću, vidi se oličena u samom Isusu, koji, za teologe, kako kaže Grosova "je bio čovek čija duša, čija besmrtnost, potiču od samog Boga, no čije telo i smrtnost su čovečiji".
Kod poigravanja sa dihotomijom telo-duh u "Po Hristu", Stojanović duh prikazuje kao "smrtan" a telo kao besmrtno. Na ilustracijama ove knjige, poređane jedne pored drugih, suprotstavljeni (ili možda "zbliženi") su iscrpljeni lik sa neke ikone i snažno muško telo iz nekog erotskog magazina, Stojanović "skida" Isusa sa nekoliko slikarskih platana i tako multipliciranog, doživljava ga kao plesača, u kompoziciji "Igra" Matisa, na stranicama njegove knjige, jedan pored dugog, par svetaca i par homoseksualaca, kao što je ikona Svetog Dimitrija i spomenik Hajduk Veljku.
Marko Stojanović preko svojih dela vrši demistifikaciju i reinterpretaciju istorije i kolektivnog sećanja. Cela tragedija danskog princa obeležena je potrebama sećanja: duh od Hamleta traži da ga se seca ("Remember me"1.5.111) i da ne zaboravi ("Do not forget!" 3.4.110), no u tom akcentiranju sećanja Hamlet treba da zaboravi na sebe – njegovo postojanje treba da se pretvori u sećanje na oca i u osvetu za očevu smrt. To je metafora duga svake generacije prema svojim pretcima, gde je žrtvovanje prava na sopstveni izbor i postojanje – često treba zaboraviti sadašnjost, dok budućnost treba kreirati u ime ideala (i kvaziideala) prošlosti. Odatle, dela Marka Stojanovića predstavljaju zov za rekonstrukciju sećanja, za njegovu promenu, za drugačije čitanje poruka prošlosti, pri čemu njegova dela ne samo što zadovoljavaju visok estetski kriterijum, već nas pozivaju da zauzmemo drugačiji pristup prema sopstvenoj budućnosti u odnosu na svoju prošlost; drugačiji pristup prema sebi, što znači da u sebi inkorporiramo i etičko, što je u relaciji sa maksimom Marine Abramović: "Umetnost bez etike je samo kozmetika!
Goce Smilevski
Prevod: Gulnihal Ismail; Lektura: Peggy and Graham Reid