Visual identity
Mokranjac Days
Negotin, my birth town, is the birth town of one of the greatest Serbian composers and music educators of all times, Stevan Stojanovic Mokranjac (Conveniently, we share the same last name as well). Each September, starting from 1966, best choir ensembles, performers and composers on Serbian musical scene gather in Negotin at the oldest Serbian festival dedicated to choir music, Mokranjac Days. For several years, my contribution to this amazing festival was the design of the entire visual identity for its promotion. The campaign always included concept developed on two types of poster, billboards, three-side totems around the city, diplomas, program, brochures and all other supporting materials needed.
Vizuelni identitet
Mokranjčevi dani
Negotin, moj rodni grad, je i rodni grad jednog od najvećih srpskih kompozitora i muzičkih edukatora svih vremena, Stevana Stojanovića Mokranjca (zgodno, delimo i prezime). Svakog septembra, počev od 1966. godine, najbolji horovi, izvođači i kompozitori na muzičkoj sceni Srbije okupljaju se u Negotinu na najstarijem srpskom festivalu posvećenom horskoj muzici, Mokranjčevim danima. Nekoliko godina, moj doprinos ovom fenomenalnom festivalu ogleda se u dizajnu čitavog vizuelnog identiteta za potrebe njegove promocije. Kampanja uvek podrazumeva razradu koncepta kroz dva različita postera, bilborde, trostrane toteme raspoređene po gradu, diplome, program, prospekte i ostale prateće materijale koji su potrebni.

2014 This year, Mokranjac Days are dedicated to centenary of the death of the greatest Serbian composer. Visual identity is made of wheat, water and soil from Mokranjac's grave (burial place: 29, plot: 40, The New Cemetery, Belgrade). The growth of the wheat was photographed each day. The composer is dead but the festival grows. The different stages of the growth are used on various press materials (posters, flyers, billboards…). The promo TV spot is made as gif animation.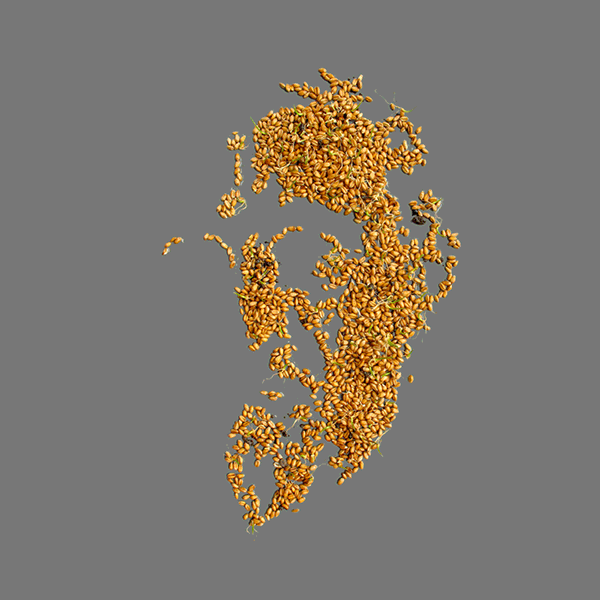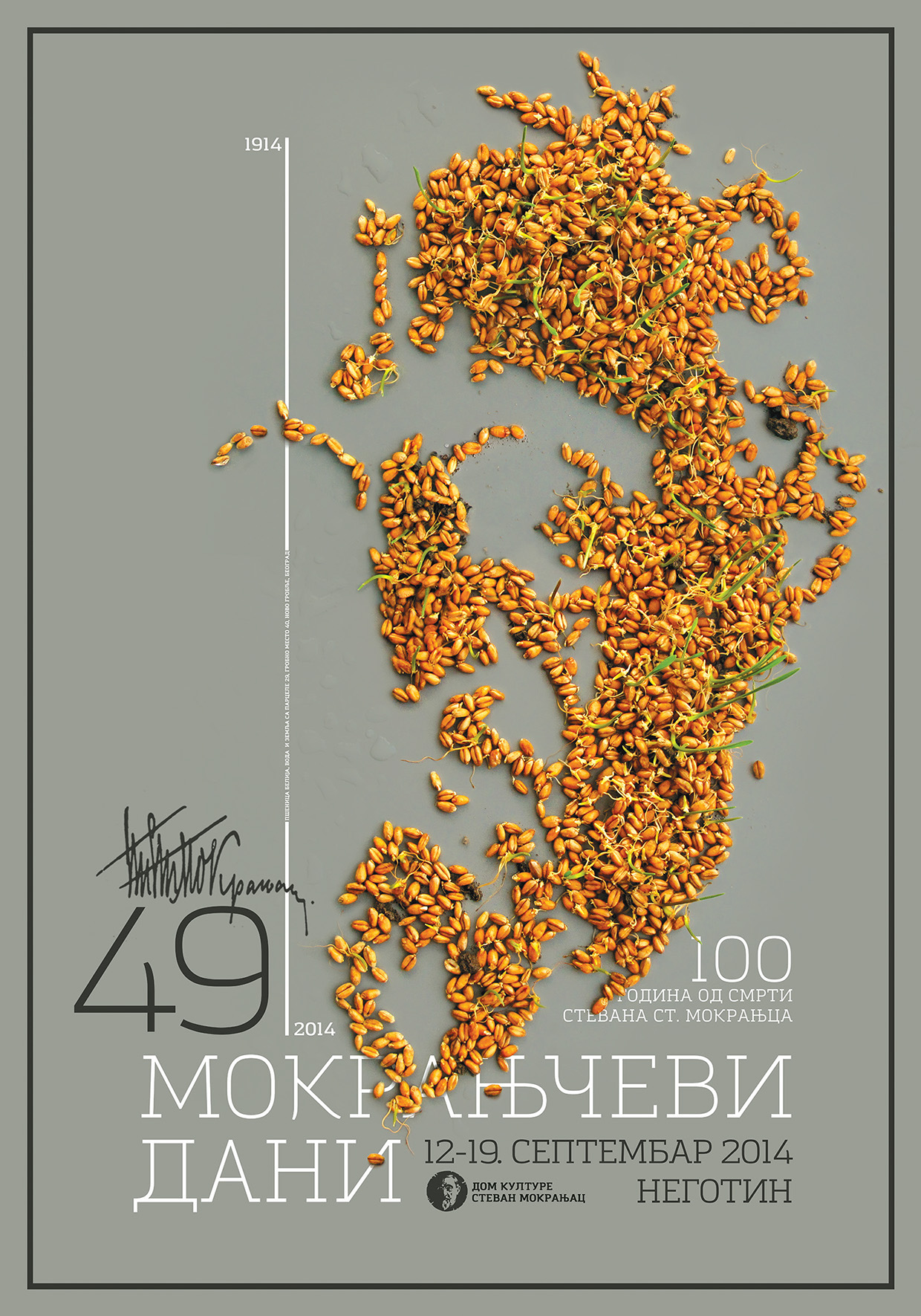 Announcement poster, 2014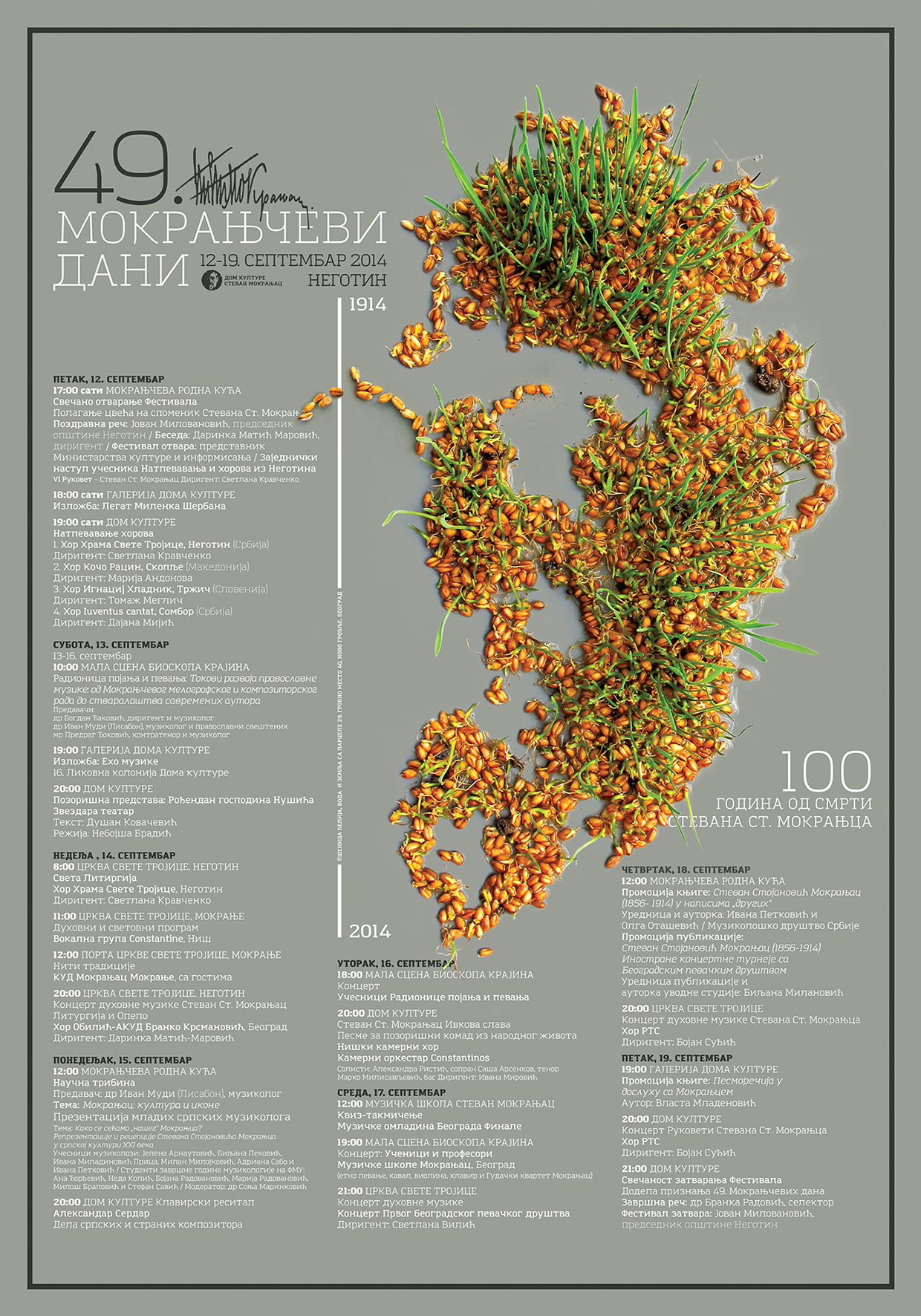 Program poster, 2014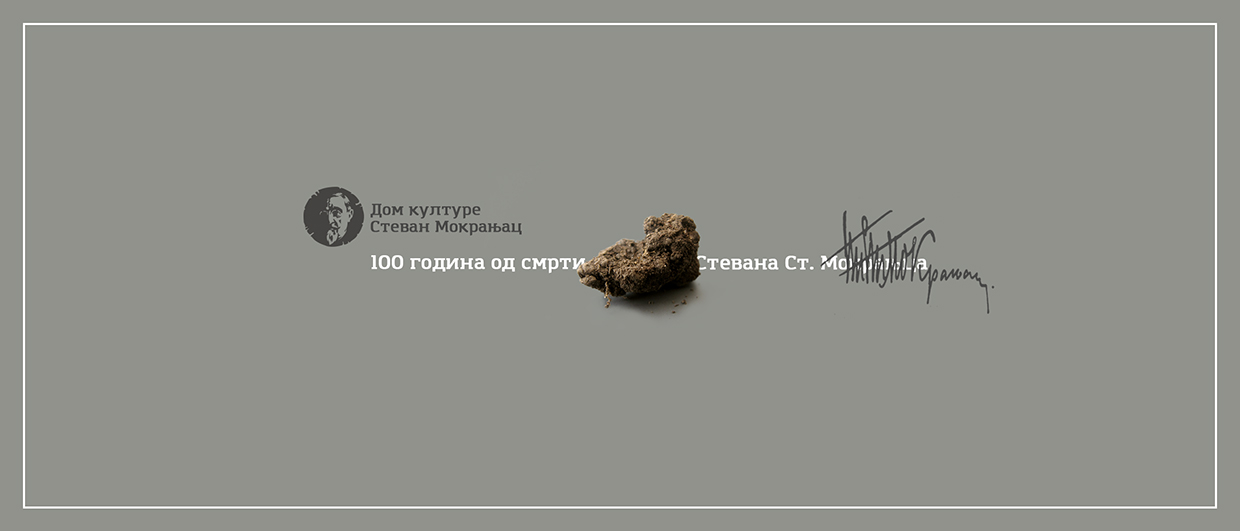 Invitation with a lump of soil from Mokranjac's grave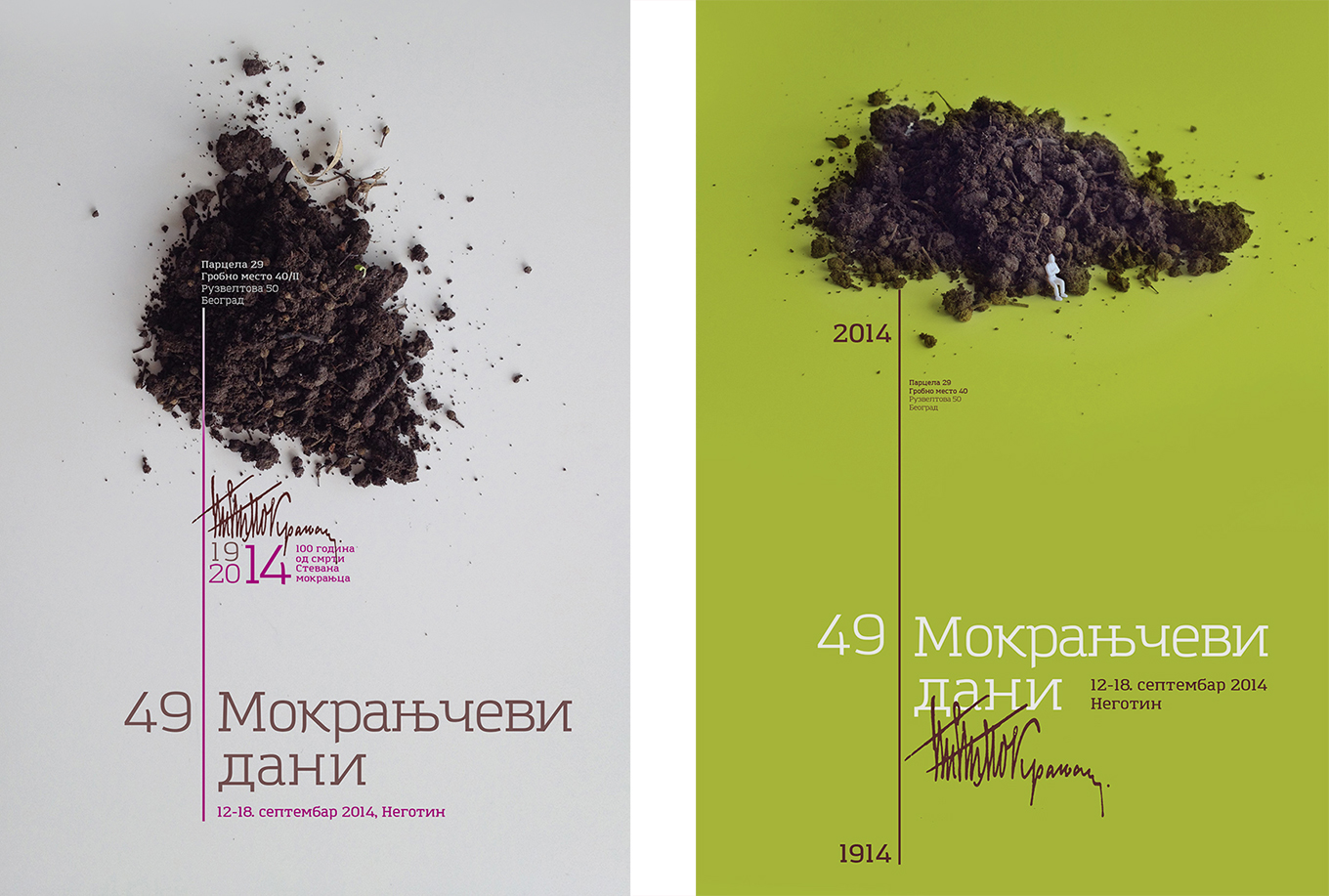 Poster design proposals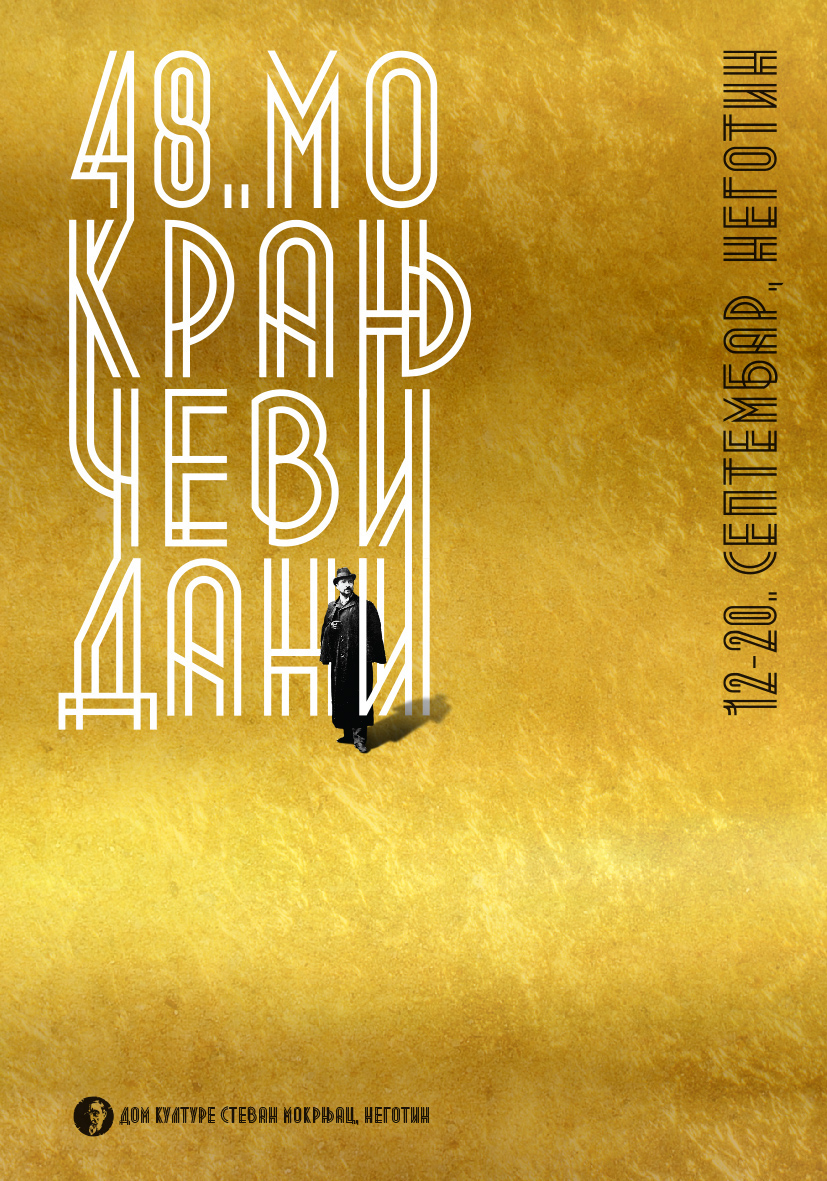 Announcement poster, 2013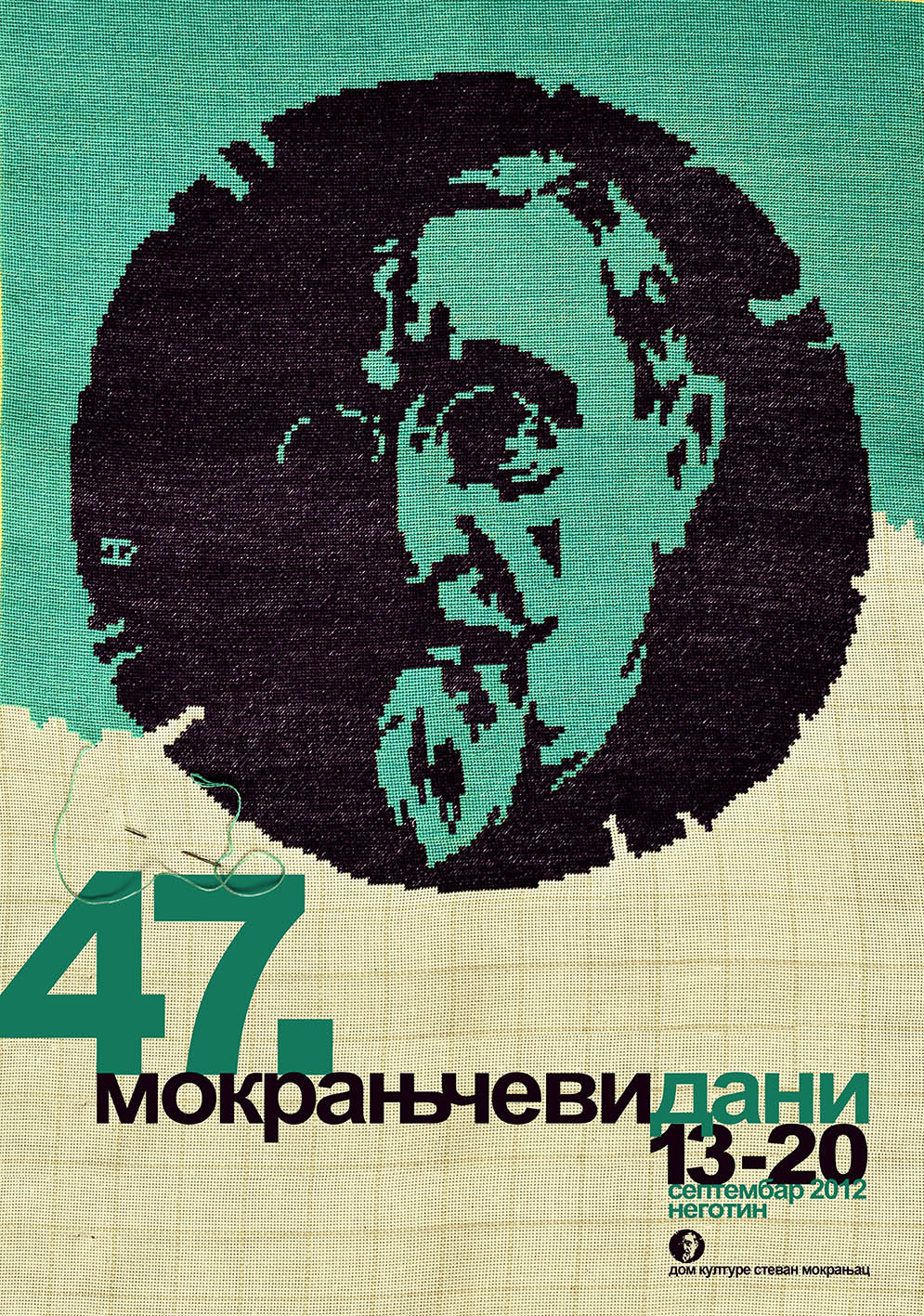 Announcement poster, 2012; Embroidery made by women from Negotin, birth town of the composer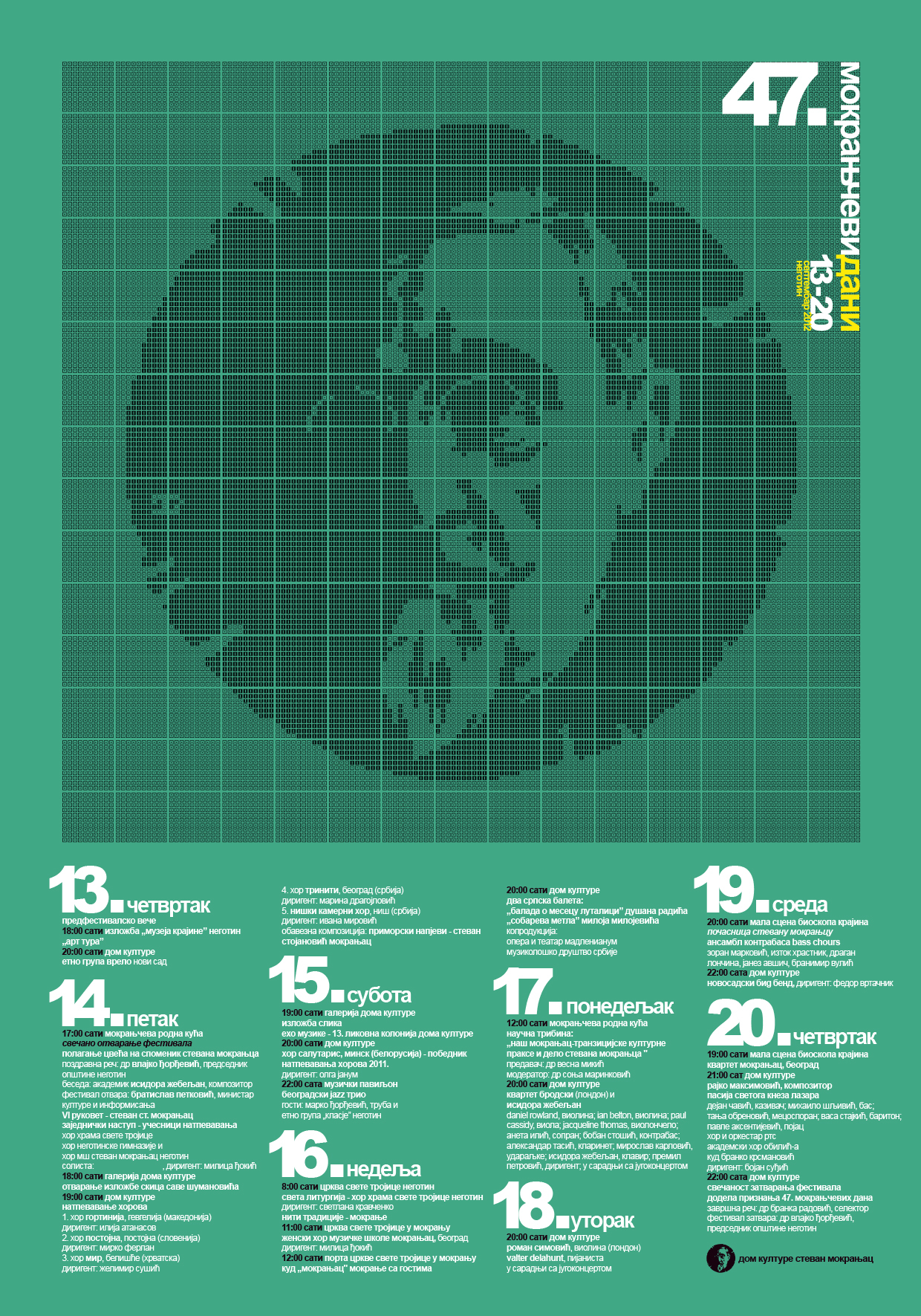 Program poster, 2012; Embroidery pattern with the face of Mokranjac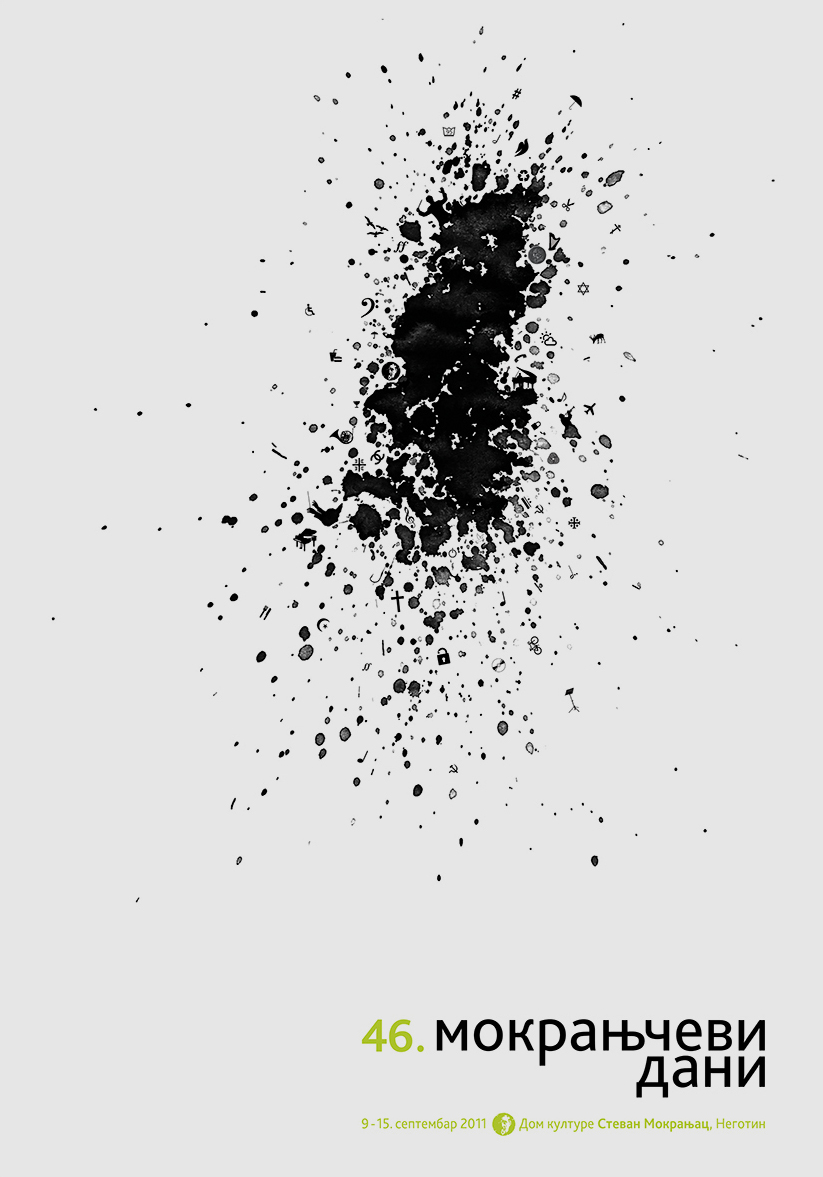 Announcement poster, 2011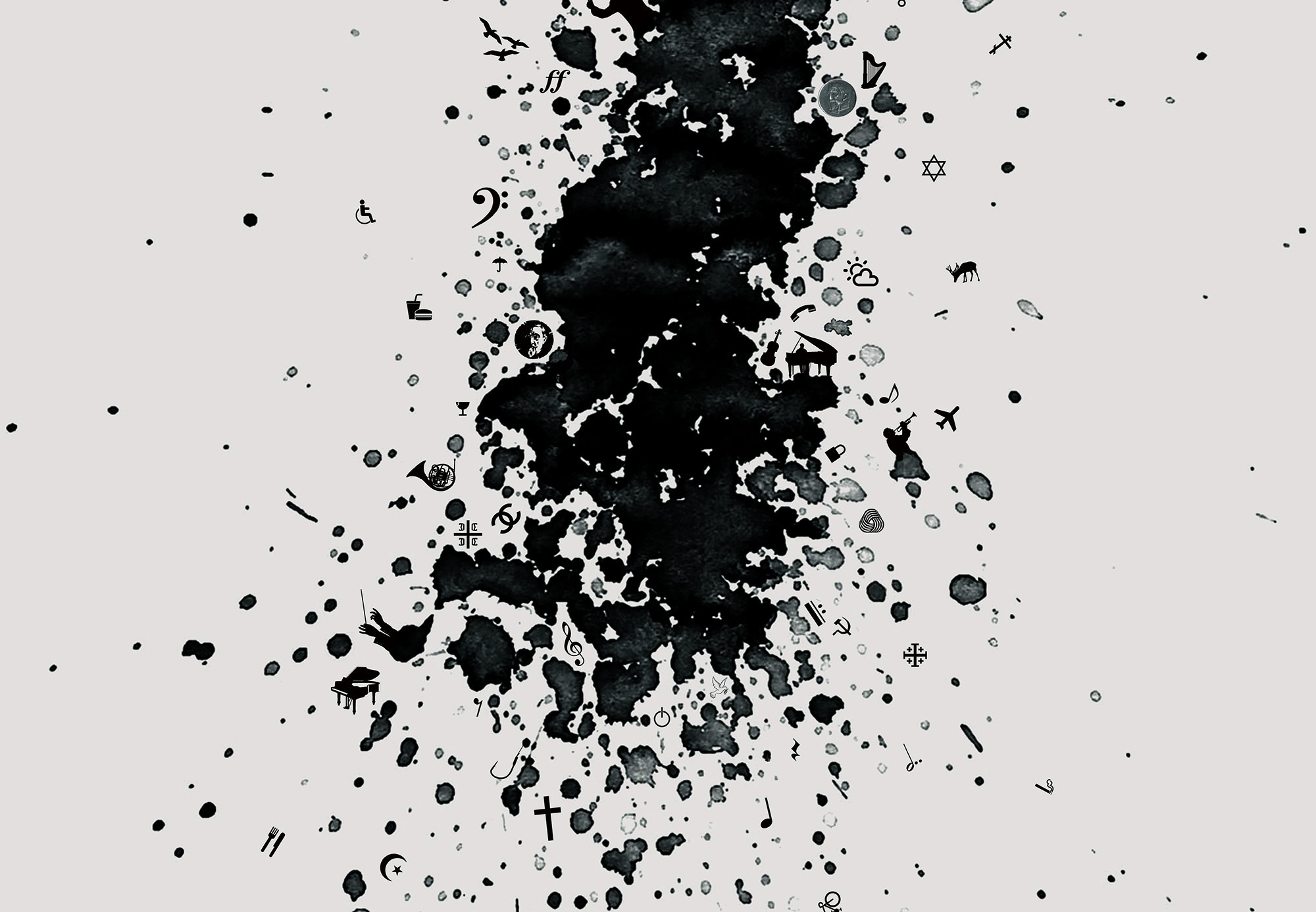 Announcement poster, a detail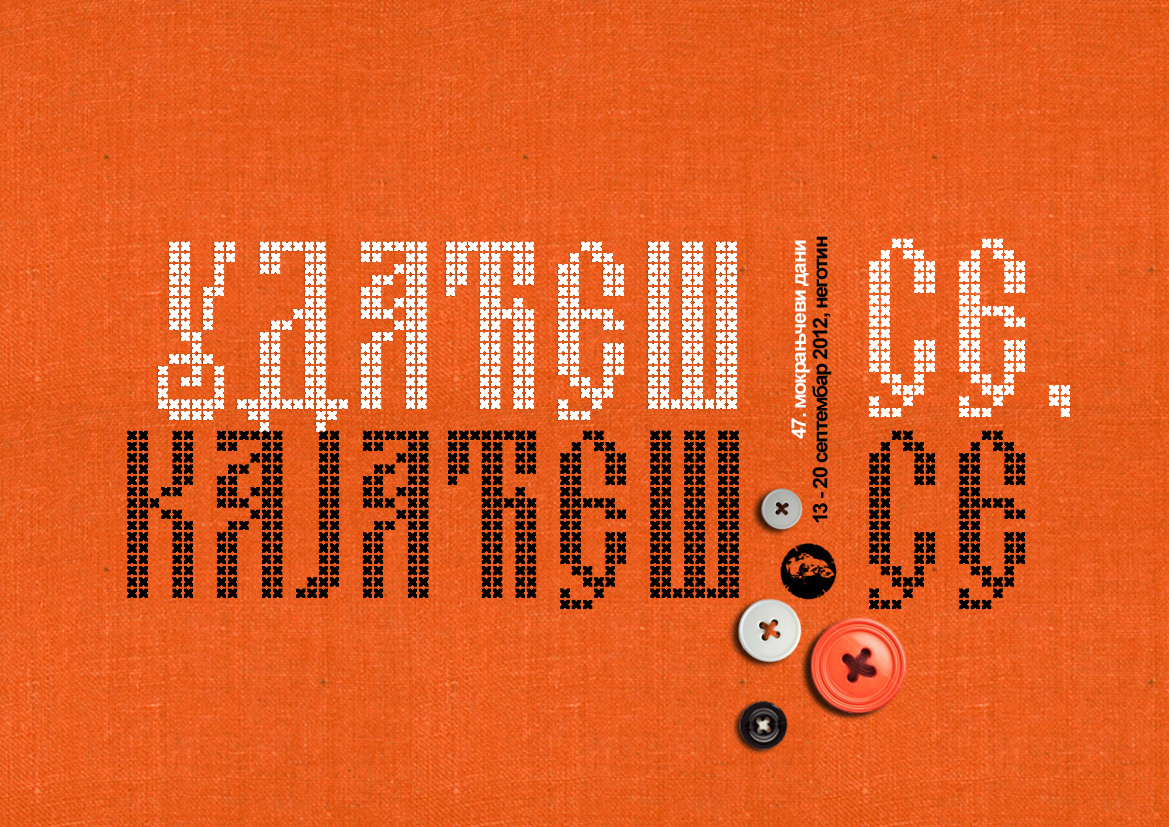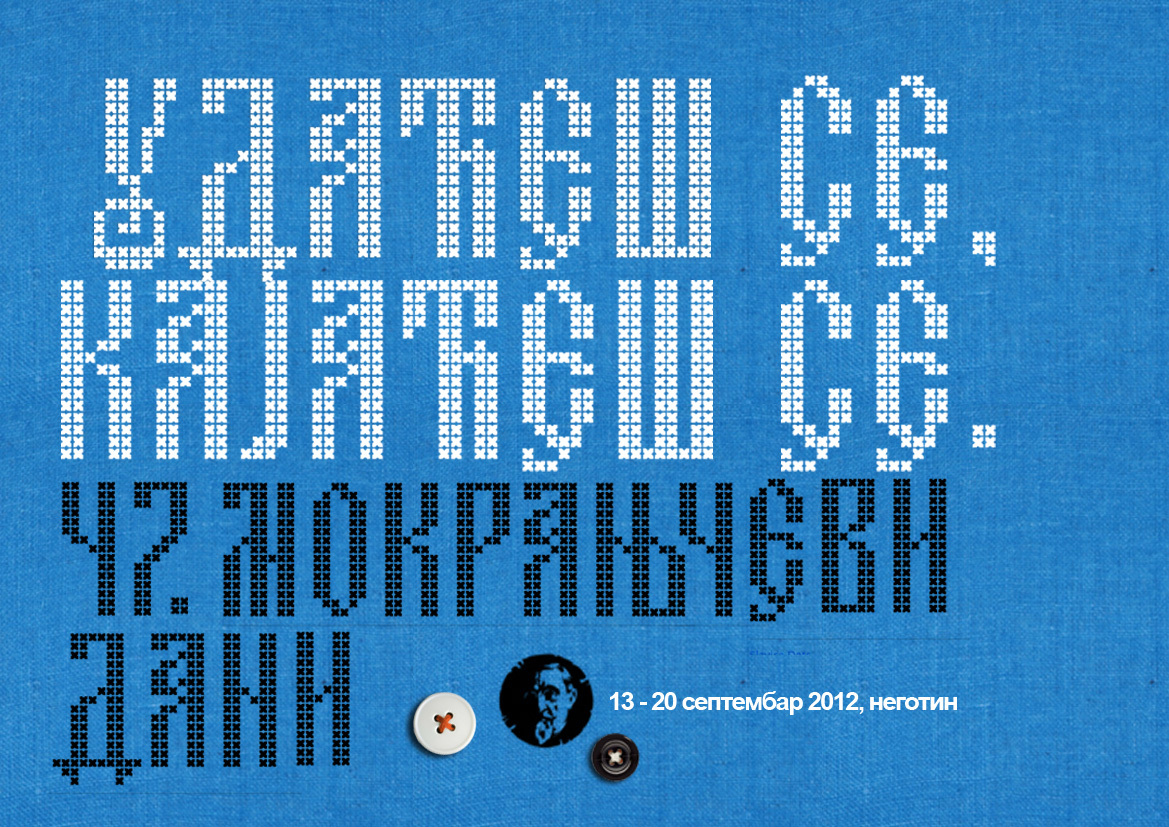 Poster proposals, 2012; Udaces se / Kajaces se (You will get married, you will regret it) is a verse from the folk poem used in Mokranjac's Garlands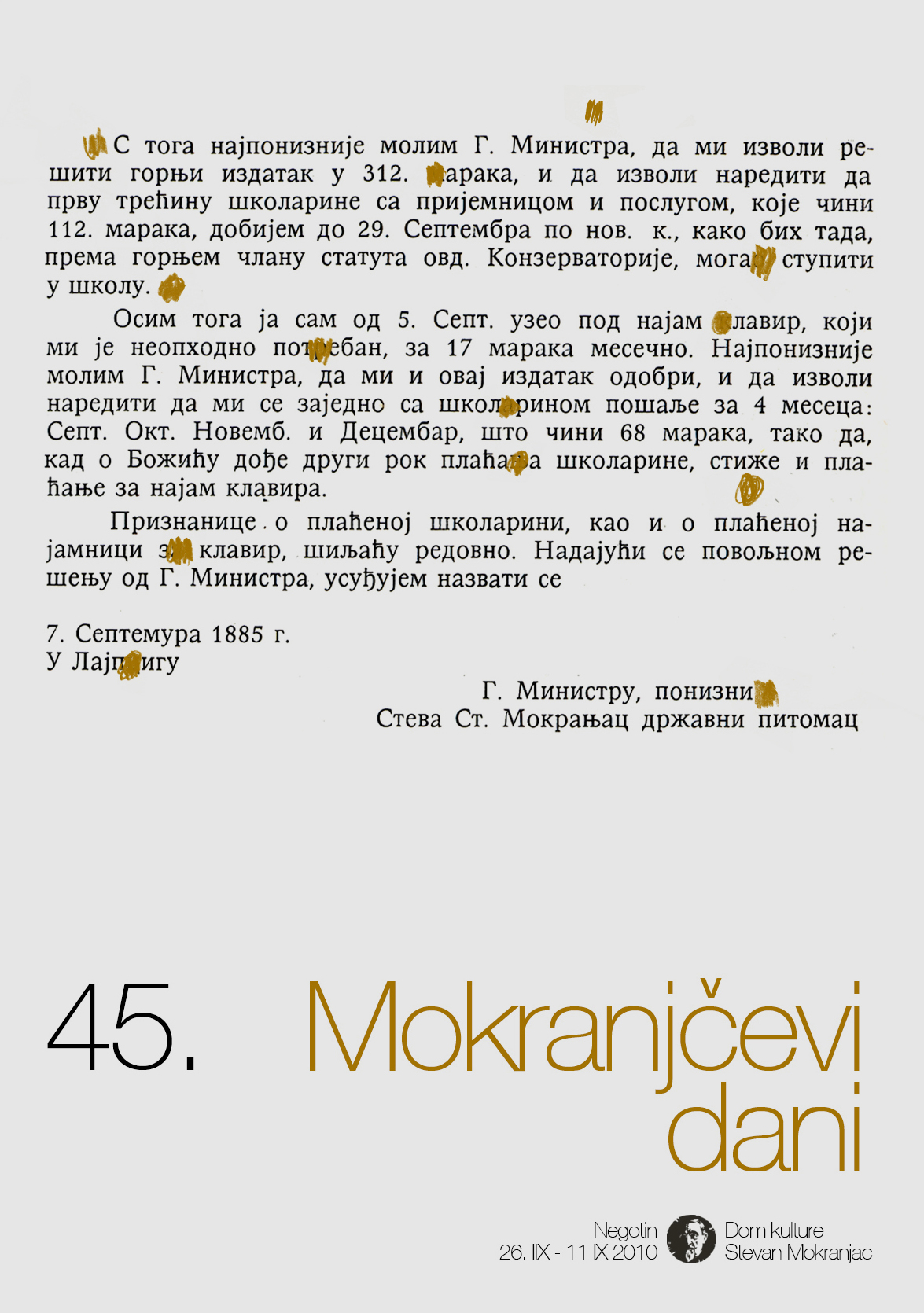 Announcement poster, 2010; Humble letter, appeal of Stevan Mokranjac addressed to the Ministry of Culture regarding his schooling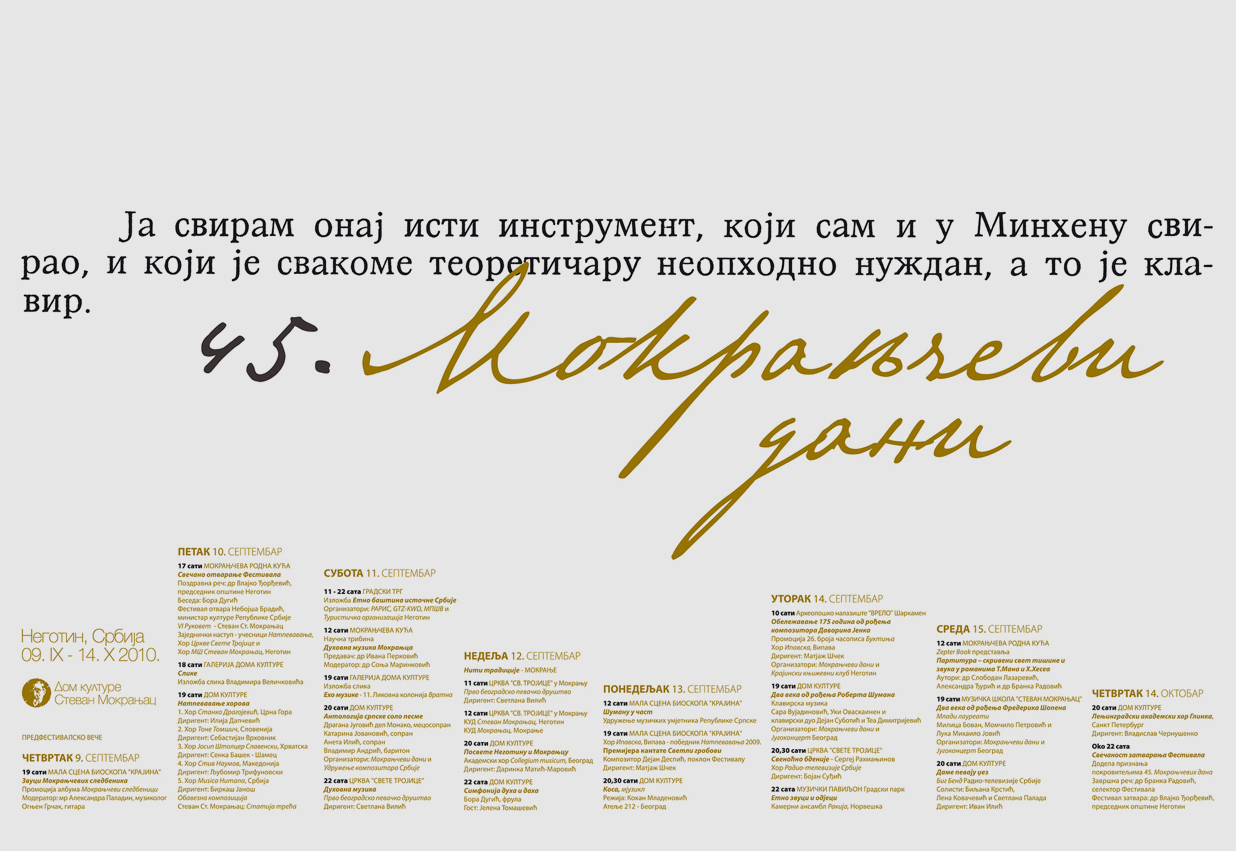 Program poster, 2010; A detail from the letter addressed to the ministry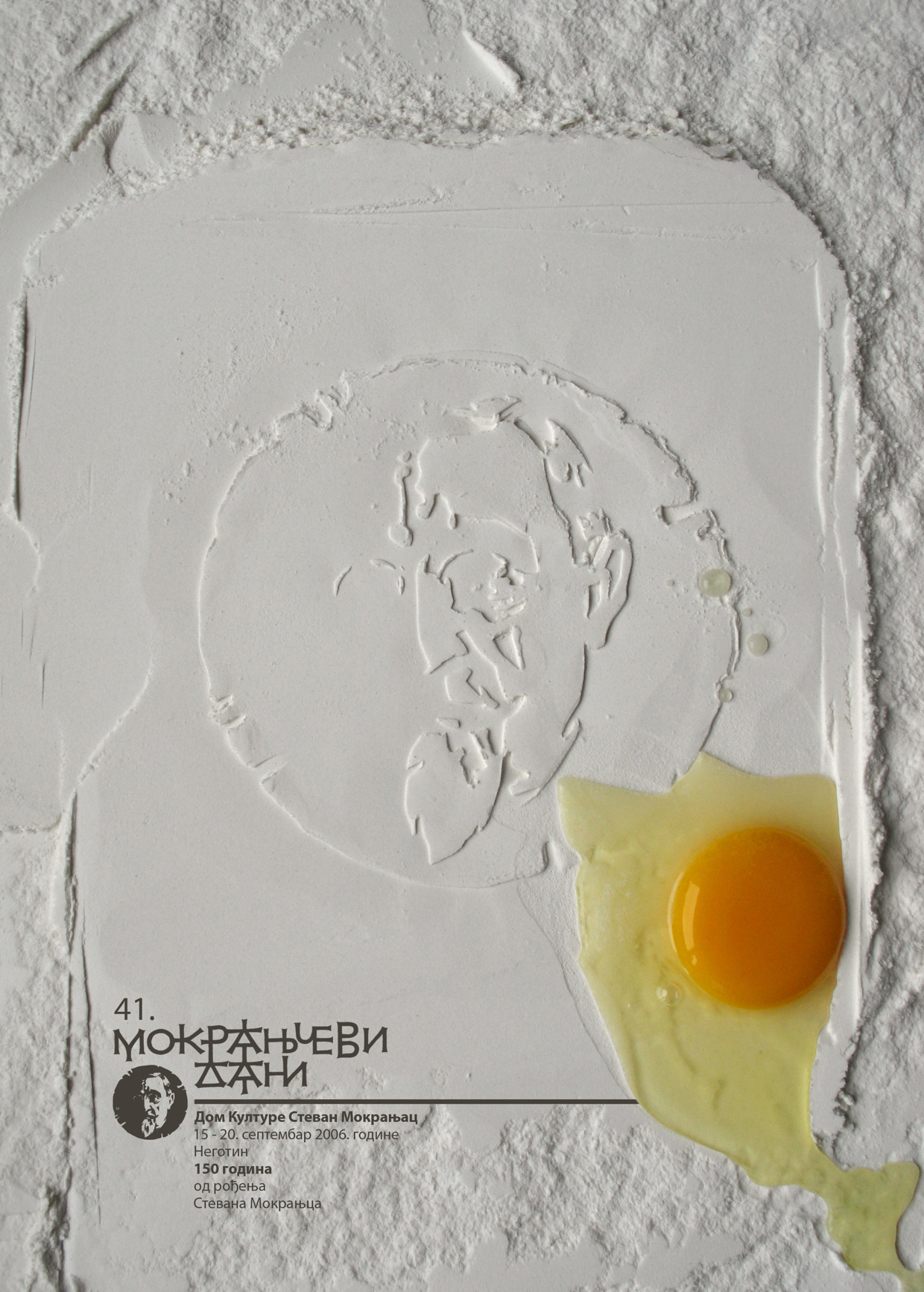 Announcement poster, 2006; (ingredients necessary for making bread