Is there any place left in heaven?
Marija Radoš
By excluding the interaction with contemporary streams and without encouraging a creative religion consumption, the institution of church atrophies its efforts to maintain the nation's spirituality, boiling it down to maintenance (or imprisonment) of national political identity. Fear from hegemony of other cultures transformed into the fear from threatening globalization. Thus, I am not sure to what extent can a spiritual guidance paralyzed with fear instill the notion of safety. The flock "bleats", waiting to be taught how not to go wild in the contemporary jungle. However, the church is turned toward the past, creating the impression that "contemporaneity" made us so tainted that we could not possibly be saved. In its interpretation of spiritual religious content, every epoch brought its style characteristics that related to the contemporary moment. Also, through the work of artists as its representatives, a society creates an active and organic relationship with church community. By endless repetition of old formal models, the strength of an expression is lost while lifeless mannerism turns into a repulsive pap. It is most certain that on this road there could not be any new "upliftings". Some of our great artists such as Uros Predic and Paja Jovanovic have left the mark of their talent within the religious art and there is only hope left that church will, sooner or later, engage with progressive creative force of our age. Work of artist Marko Stojanovic is a great example of transposition of sacral content into the contemporary formal and communication code. By examining religious themes and their iconography, Marko abstracts the essence, reinterpreting it in his own manner, with his refined style of language and witty symbolism with a tinge of humour. In their modern garments, themes presented at the exhibition New Testament scenes do not lose anything of their spirituality. On the contrary, revived, they inspire some new readings.
Ima li još mesta u raju?
Marija Radoš
Isključivanjem interakcije sa savremenim i bez podsticanja na kreativno konzumiranje religije, institucija crkve atrofira svoju ulogu u očuvanju duhovnosti nacije svodeći je na čuvanje (ili tamničenje) nacionalno-političkih identiteta. Strah od hegemonizma drugih kultura sada je pretočen u stravu od preteće globalizacije i nisam sigurna koliko uliva sigurnost duhovno vođstvo paralizovano od straha. Stado "bleji" i čeka da bude podučeno kako da ne podivlja u savremenoj džungli, međutim, crkva je zagledana u proslost i stiče se utisak da smo "savremenošću" okaljani toliko da nam nema spasa. Pri interpretaciji duhovno-religijskih sadržaja svaka epoha je unosila stilske karakteristike koje su te sadržaje vezivale za savremeni trenutak. Takođe, društvo kroz rad umetnika kao svojih predstavnika uspostavlja aktivan i organski odnos sa crkvenom zajednicom. Beskrajnim ponavljanjem starih formalnih modela snaga izraza se gubi a beživotni manirizam prelazi i u odbojni šund. Sasvim je izvesno da na ovom putu novih "uzleta" ne može biti. Neki od naših velikih umetnika kao što su Uroš Predić i Paja Jovanović ostavili su pečat svog talenta u crkvenoj umetnosti i ostaje nada da će crkva, pre ili kasnije, angažovati i progresivne stvaralačke potencijale našeg doba. Rad umetnika Marka Stojanovića je lep primer transponovanja sakralnih sadržaja u savremeni formalni i komunikacioni kod. Proučavajući religijske teme i njihove ikonografske predstave Marko apstrahuje suštinu koju reinterpretira u svom maniru, pročišćenim stilskim jezikom i dovitljivim simbolizmom sa primesama humora. Teme predstavljene na izložbi Novozavetni prikazi svojim modernim ruhom ne gube na spiritualnosti ali novim oživljavanjem inspirišu na novo iščitavanje.
New Testament + New design
Slavica Popov
Apart from the believers of Chatolic church, Dominican church Santa Maria delle Grazie in Milan is visited by a great number of people of different religious beliefs and atheists who come to admire, among other things, to the famous fresco of Leonardo da Vinci. Most of the sacral objects today perform two functions today, thanks to the resourcefulness of former leaders. Thus the places of worship are now also museums visited by a great number of tourists. Several centuries ago, the church recognized the role of art in communication with its believers, understanding that the visual arts are most powerful means for sending messages to illiterate residents. Maybe what should be considered today, in the light of visual communication, that is, in the light of the importance of good marketing and design, is a renewed role of patron that would be of mutual interest for both art and religion. A good design today shapes the product, it is not merely a stylization, it also gravitates to positive changes in society, to innovation (broader than innovation connected to technological advancing). Market no longer dictates the design, on the contrary, the contemporary design creates a new market, making room for new possibilities in people's lives. However, the new design asks for courage and openness, which brings the question if there are commissioners today willing to accept it as such. Sacral art, although there is no great patronage today, has a growing importance. The Bienalle of miniatures in Gornji Milanovac set the separate category in 2008 called Sacral art, due to the great number of works received on that very subject, technically and iconographically honoring tradition. In his graduate thesis Book of Marko, Marko Stojanovic asks the question why there is no iconographic novelties presented to the Christian art. Art should not project outdated forms everagain, but it should find and cover other relationships, making linguistic breakthroughs. Innovations in sacral art have always provoked resistance. In 16th century, Caravaggio himself risked not pleasing commissioners when he presented forceful, inconspicuous figuresto the traditional iconography, painting them without polishing, in accord with the actual human types. Just like that, through his work, Stojanovic problematizes the question of presenting figures on icons as contemporary people, setting Holy Bible as the starting point. This approach climaxes in the project New Testament scenes where he goes a step further in negating canons of Christian iconography. Through eight installations chosen by personal affinity, he presents several scenes from the cycle Great Feasts, cycle Passion, as well as some presentations connected more to the iconography of western Christianity. Using contemporary art language, his installations that are not recognizable at first glance, make texts older than 2000 years readable for contemporary human being. His solutions often provoke laughter if they are looked at on the level of witticism. Annunciation is the first presentation from the cycle of Great Feasts where Archangel Gabriel is mainly presented, raising his arm towards the Madonna signifying speech, with her accepting the words with her head down. This presentation could be seen on Royal doors on iconostasis of Orthodox temples in the form of diptych that is repeated in Stojanovic's interpretation with a laptop that shows the image of website hotmail that provides the means of communication showing there is no more need for a human messenger now when we have email addresses. However, the artist stresses it is not a matter of humour but a matter of demystifying the icon and his honest desire to work for Serbian Orthodox church. Approaching Christian iconography with the language of new design, Stojanovic creates unexpected transformations in his need to reach as deep as possible into human secrets, because every technological advancement in the design means nothing if it's not followed by the changes and innovations in human life an consciousness. Far from the safe zone of well-known competition and target group, the new design suggests creating something new that could be of even greater use to the people, more pleasant and maybe even more fun, something they missed from the start without being aware of it, and such approach in sacral art is exactly what Marko Stojanovic suggests.
Novi zavet + Novi dizajn
Slavica Popov
Dominikansku crkvu Santa Maria delle Grazie u Milanu pored vernika katoličke crkve posećuje veliki broj ljudi različitih veroispovesti, kao i ateisti da bi se između ostalog divili čuvenoj fresci Leonarda da Vinčija. Većina sakralnih objekata zahvaljujući preduzimljivošću tadašnjih poglavara danas vrši dvostruku funkciju, pa tako pored bogomolja postaju i muzeji koji privlače veliki broj turista. Crkva je pre nekoliko vekova prepoznala ulogu umetnosti u komunikaciji sa vernicima, shvativši da su vizuelne umetnosti najmoćnije sredstvo za prenošenje poruka nepismenom stanovništvu, a možda danas treba da razmisli, u svetlu dominacije vizuelnih komunikacija odnosno važnosti dobrog marketinga i dizajna, o ponovnom preuzimanju uloge mecene u obostranom interesu, i umetnosti i religije. Danas dobar dizajn oblikuje proizvod, nije više samo stilizacija već teži pozitivnim promenama u društvu, odnosno inovacijama (gde se ne misli samo na tehnološki napredak). Tržište više ne diktira dizajn, već nasuprot, savremen dizajn stvara novo tržište i otvara nove mogućnosti u životu ljudi. Ali novi dizajn zahteva i hrabrost i otvorenost, pa se postavlja pitanje koji poručilac je danas u stanju da ga prihvati. Sakralna umetnost, iako nema više velikog mecenaštva kao nekad, dobija sve veći značaj, Bijenale minijature u Gornjem Milanovcu je 2008. godine uvelo posebnu kategoriju Sakralna umetnost, baš zbog velikog broja radova koji im pristižu na ovu temu gde je uglavnom ispoštovana tradicija u tehničkom i ikonografskom smislu. Još u svom diplomskom radu Knjiga po Marku, Marko Stojanović pokreće pitanja zašto se ne uvode ikonografske novine u hrišćanskoj umetnosti. Umetnost ne treba ponovo da projektuje prevaziđene forme već da nalazi i obrađuje druge veze i čini jezičke iskorake. Inovacije u sakralnoj umetnosti su oduvek izazivale otpor, čak je i Karavađo u 16. veku rizikovao da se njegova dela ne svide poručiocima kada je u tradicionalnu ikonografiju uvodio snažne, neugledne figure, slikane bez doterivanja prema tipovima ljudi iz naroda. Isto tako Stojanović kroz svoj rad problematizuje pitanje prikazivanja likova na ikonama kao savremene ljude postavljajući kao polaznu tačku Sveto pismo što kulminira u projektu Novozavetni prikazi gde odlazi dalje u negiranju kanona hrišćanske ikonografije. Kroz osam instalacija izabranih po ličnom afinitetu predstavlja nekoliko scena iz ciklusa Velikih praznika, ciklusa Stradanja, kao i neke predstave karakteristične više za zapadnu hrišćansku ikonografiju. Koristeći savremeni umetnički jezik njegove instalacije na prvi pogled neprepoznatljive čine tekstove stare oko 2000 godina čitljive savremenom čoveku. Njegova rešenja često izazivaju osmeh kada se razmišlja na nivou dosetke - Blagovesti su prva predstava iz ciklusa Velikih praznika gde se uglavnom predstavlja arhanđeo Gavrilo koji podiže ruku u smeru Bogorodice što označava govor, a ona sa spuštenom glavom prima reči. Ova predstava se javlja na Carskim dverima na ikonostasu pravoslavnih hramova u formi diptiha koju Stojanović u svojoj interpretaciji ponavlja postavljajući lap top koji emituje sliku sajta hotmail omogućavajući komunikaciju, tako da danas više nema potrebe za glasnikom, dovoljno je imati e-mail adresu. Međutim, umetnik naglašava da posredi nije humor već demistifikacija ikone i jasna želja da radi za Srpsku pravoslavnu crkvu. Pristupajući hrišćanskoj ikonografiji jezikom novog dizajna Stojanović čini neočekivane transformacije u potrebi da pronikne što dublje u tajne čoveka, jer svaki tehnološki napredak koji prati dizajn ne znači ništa ako ne postoje promene i inovacije u životu i svesti ljudi. Daleko od sigurne zone poznate konkurencije i ciljne grupe novi dizajn predlaže stvaranje nečeg novog što ljudima može biti korisnije, prijatnije, možda i zabavnije, nešto što im je oduvek nedostajlo a da to nisu ni slutili, a takav pristup sakralnoj umetnosti upravo predlaže Marko Stojanović.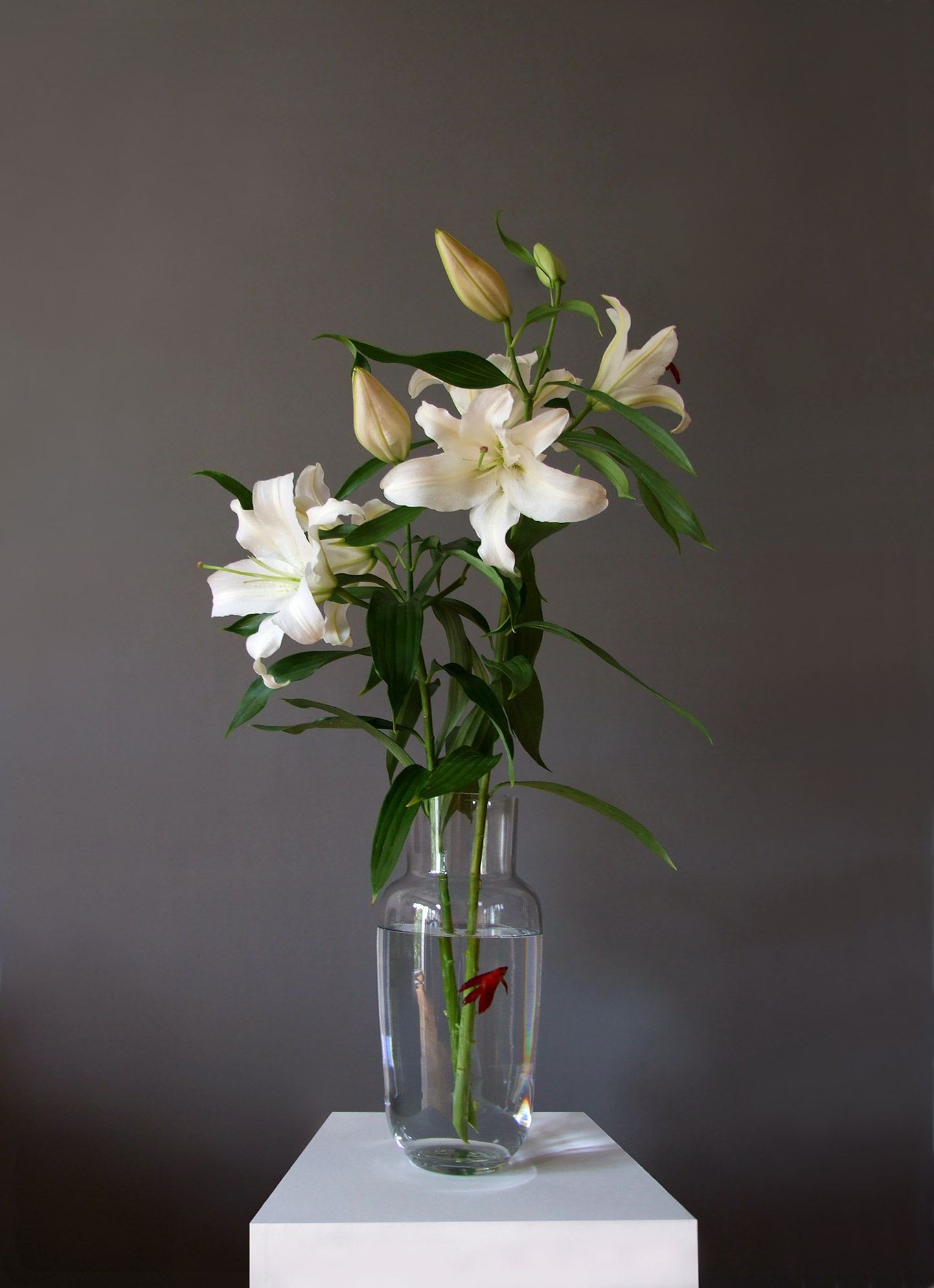 Madonna with Christ, digital print/installation (little fish, lilies, water), various dimensions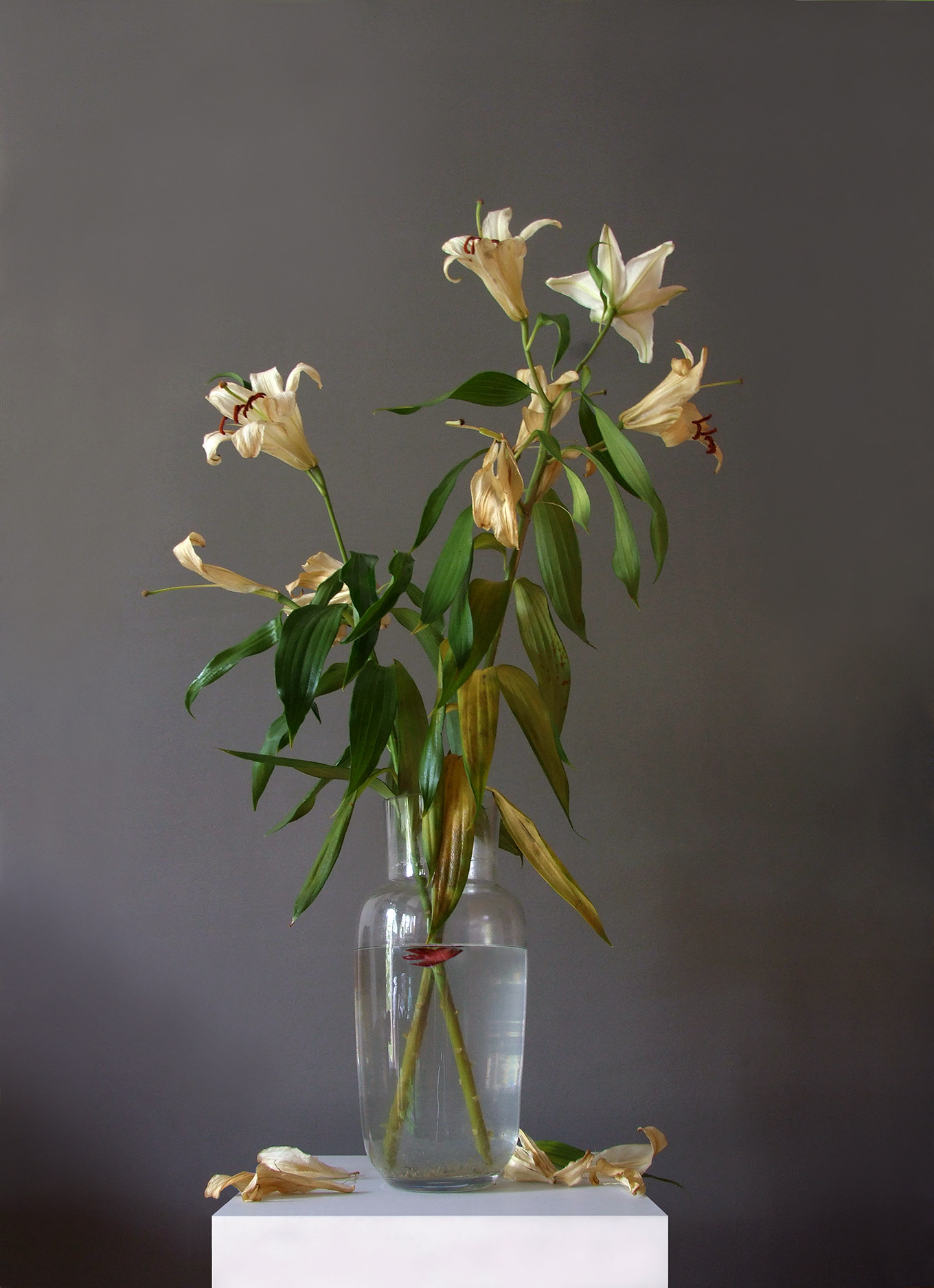 Pietà, digital print/installation (ribica, ljiljani, voda, vreme), various dimension

Transformation of the representative image of Madonna with Christ into Pietà/Mourning of ChristHrista, lasting 7 days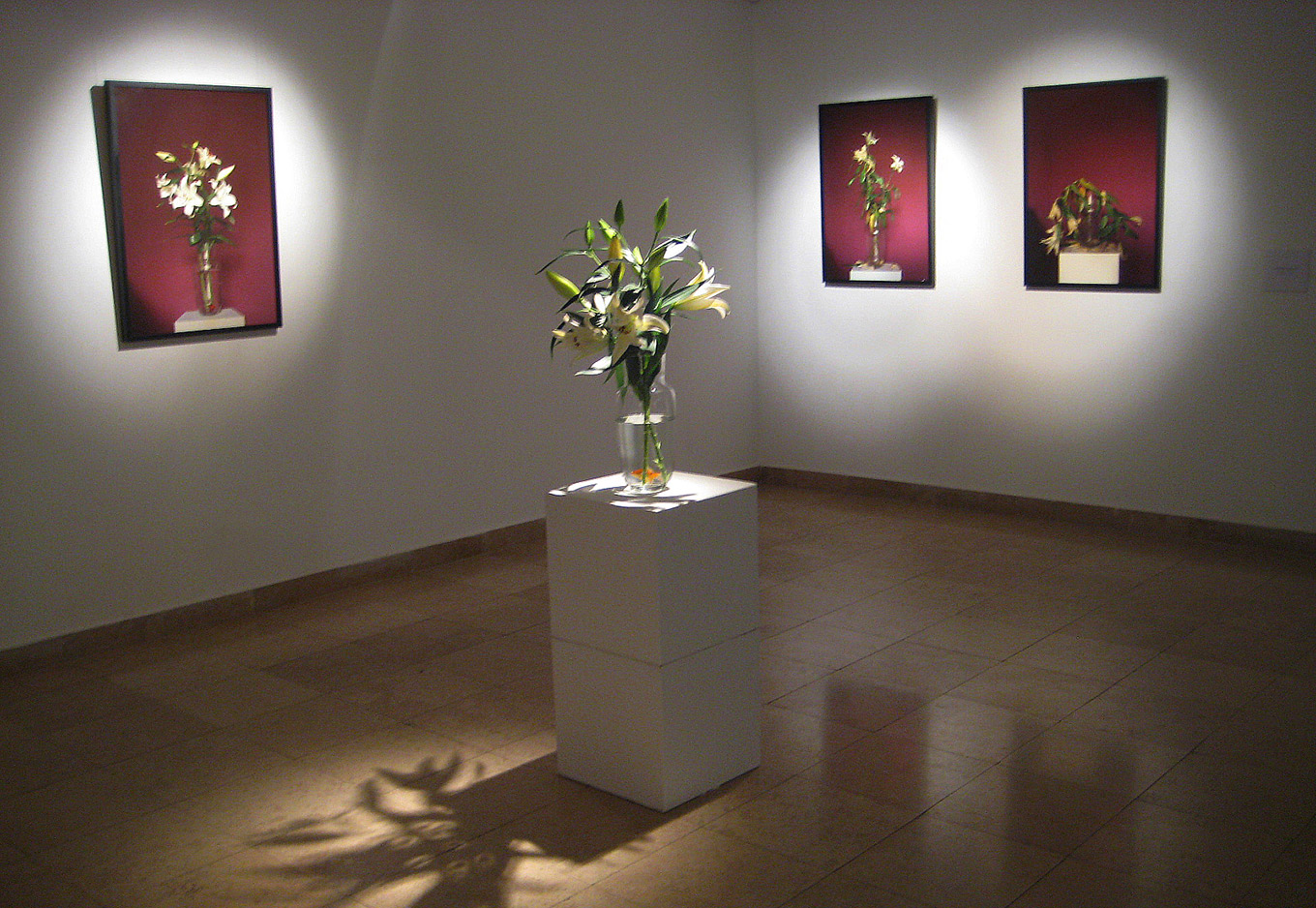 Contemporary gallery, Zrenjanin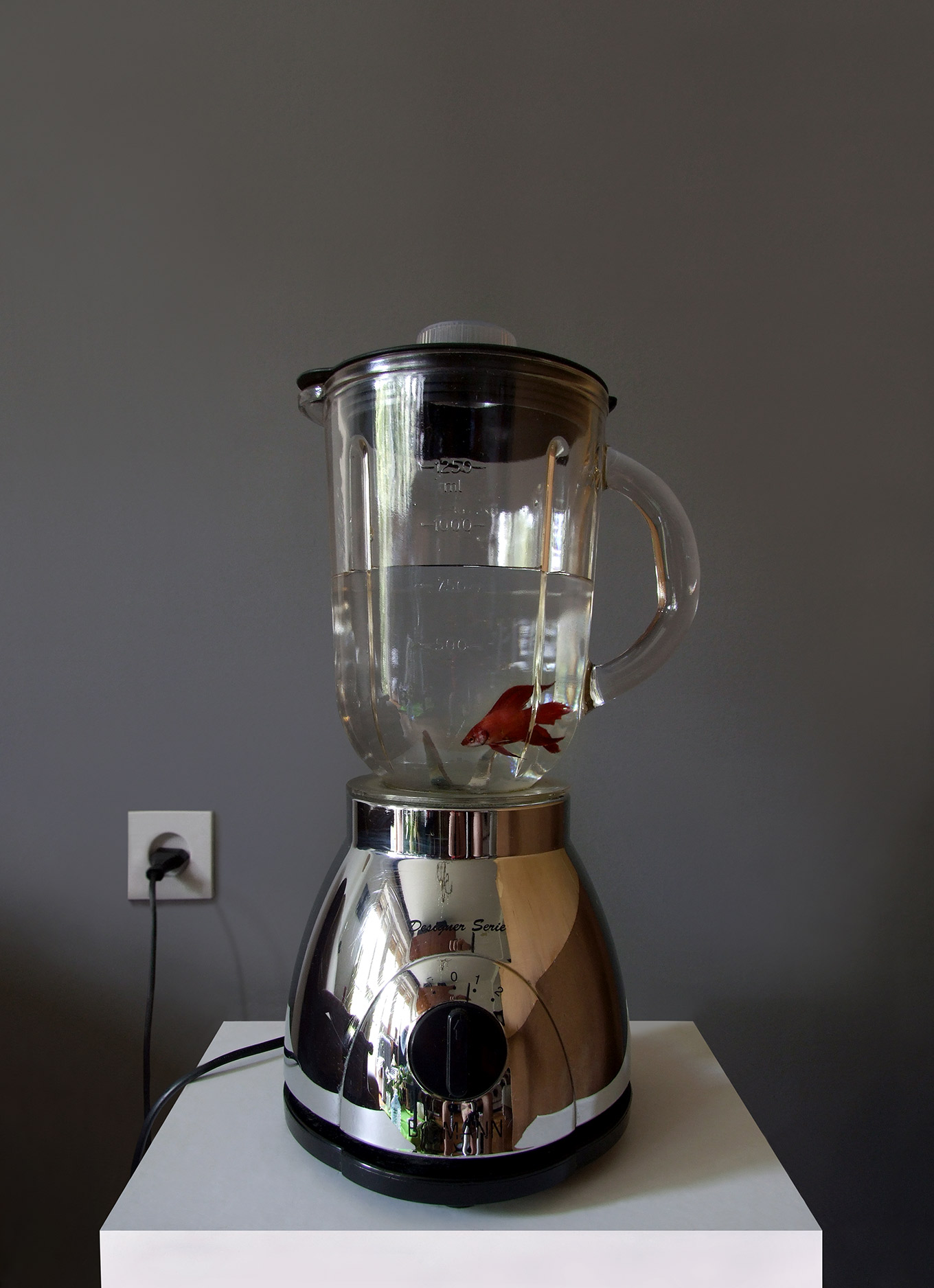 Crucifixion, digital print/installation (little fish, blender, water, electricity), various dimensions

Crucifixion, a detail of cross inside blender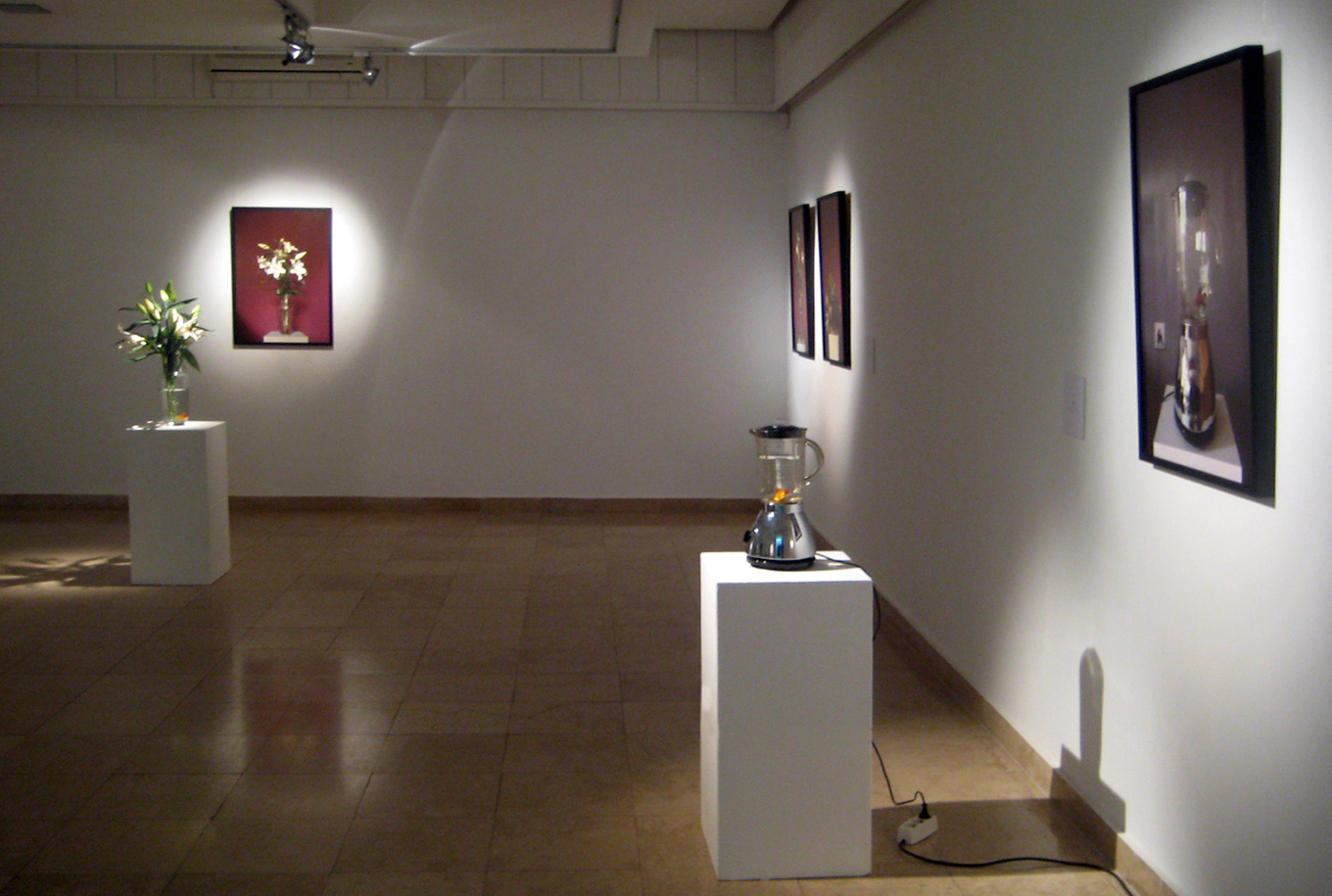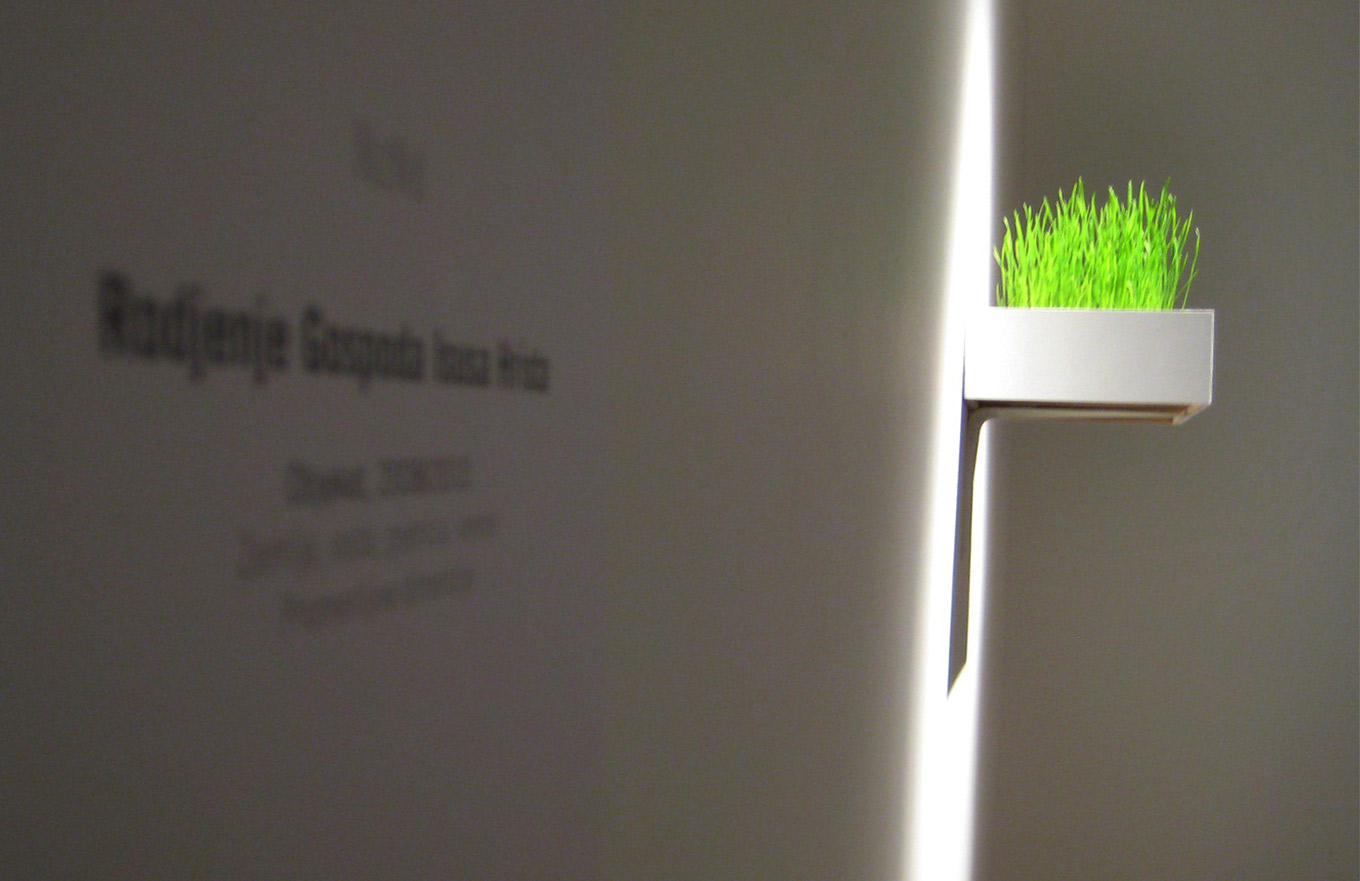 Birth of the Lord Jesus Christ, object (soil, seed of wheat, time)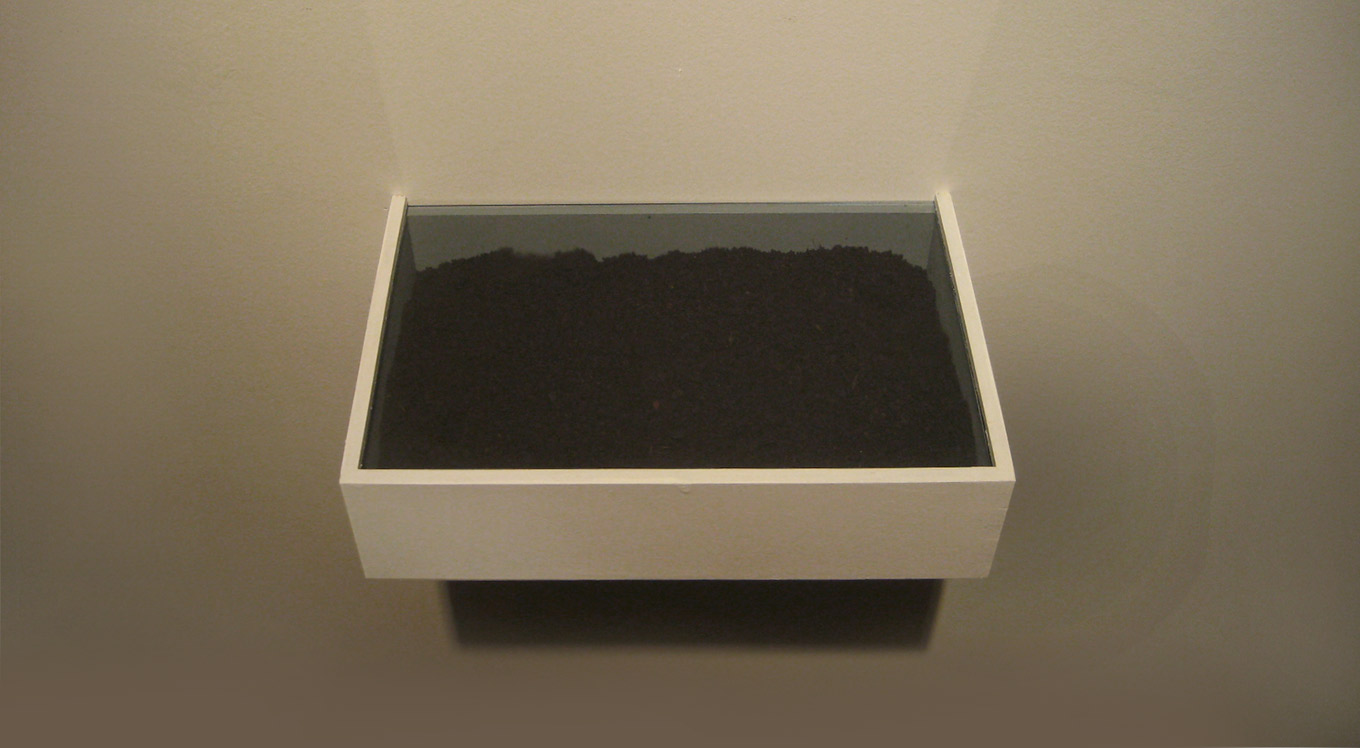 Burying the body in the grave, object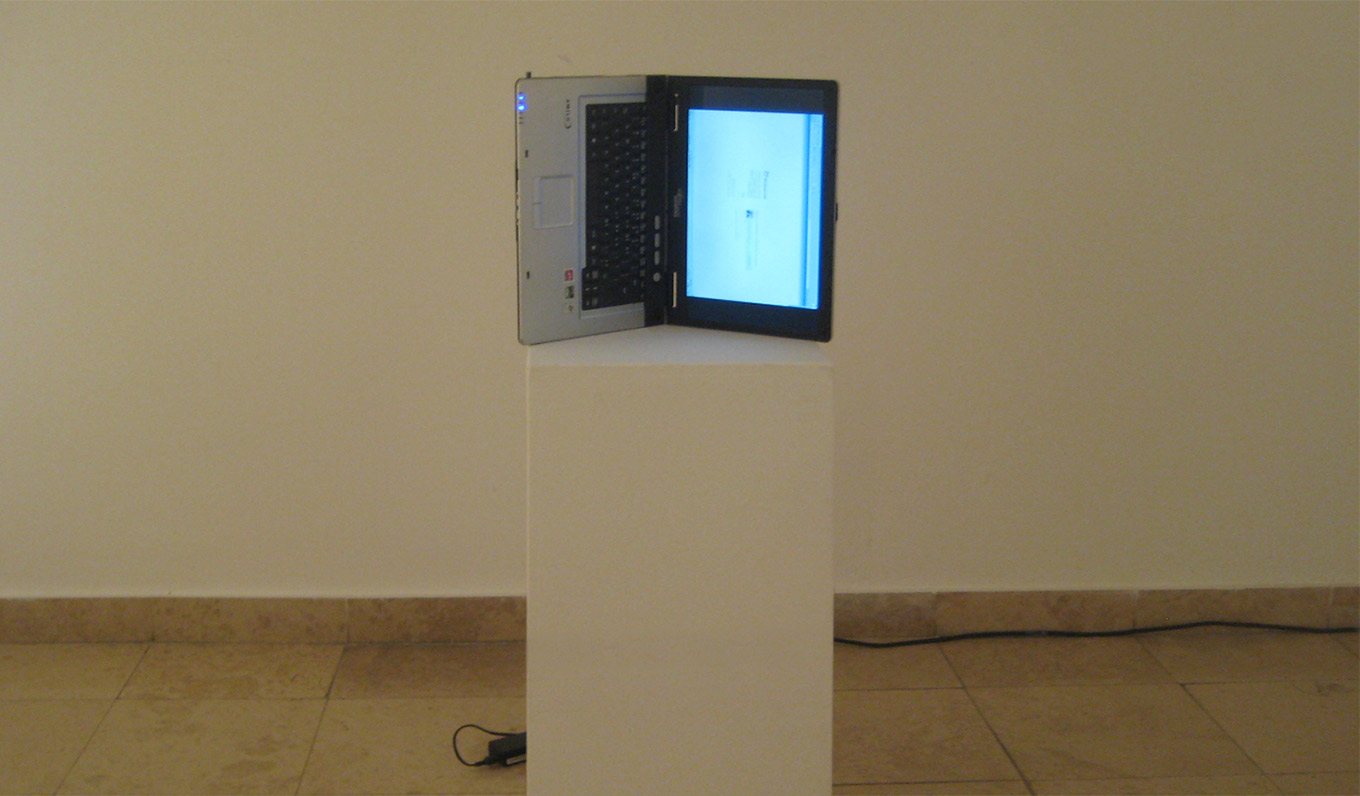 Annunciation, diptych/object (lap top, internet)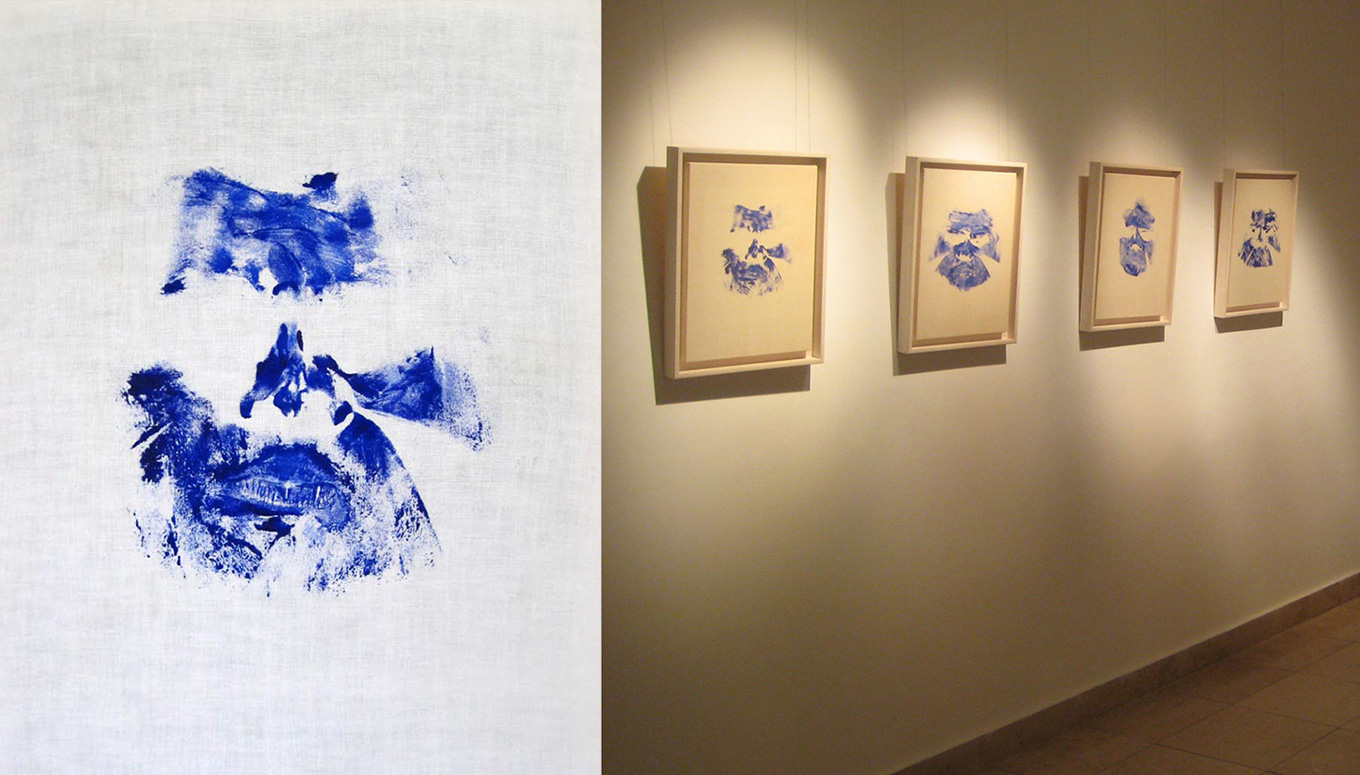 Veronika's napkin / Christ's cheek, naturally created, four canvases with printed face of the artist, owned by Tanja Andric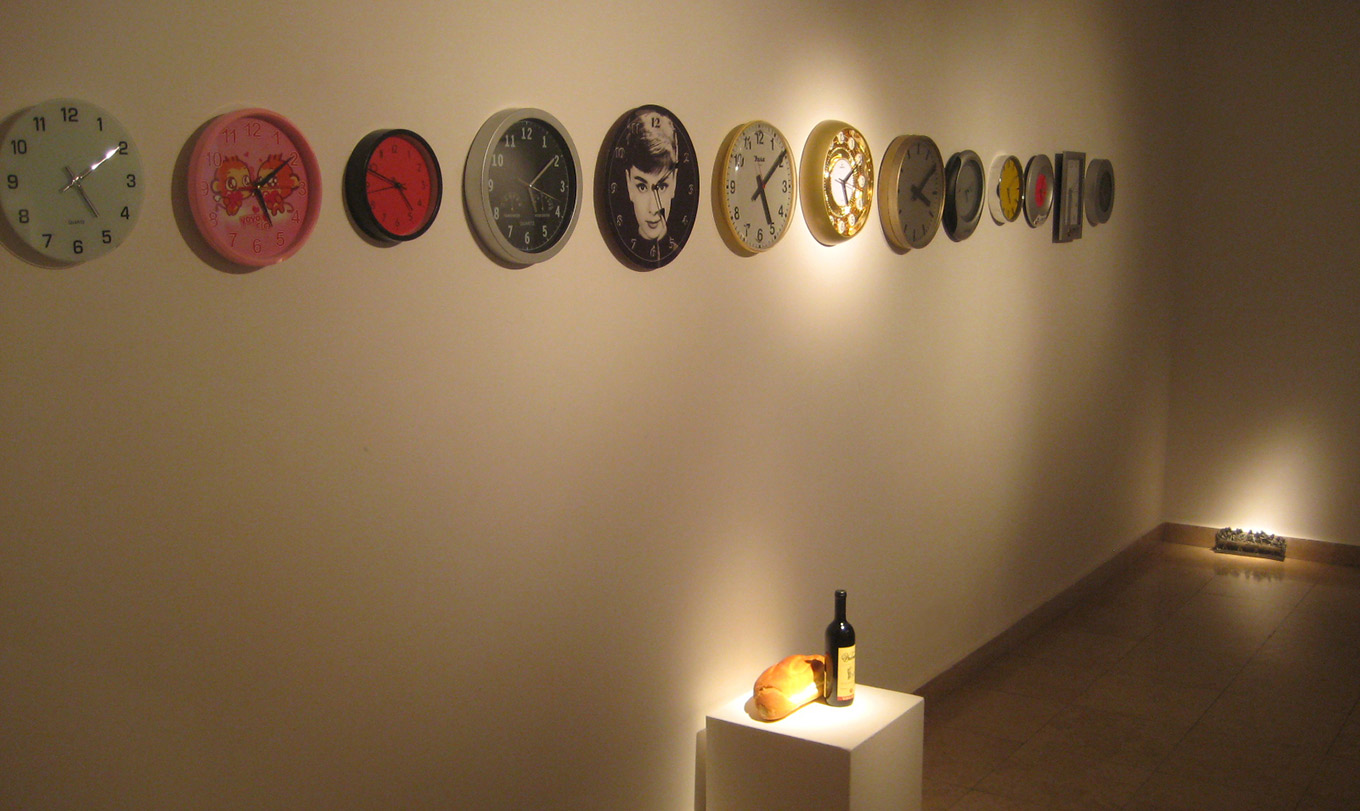 Last supper, installation (13 wall watches, bread, wine, candle), various dimensions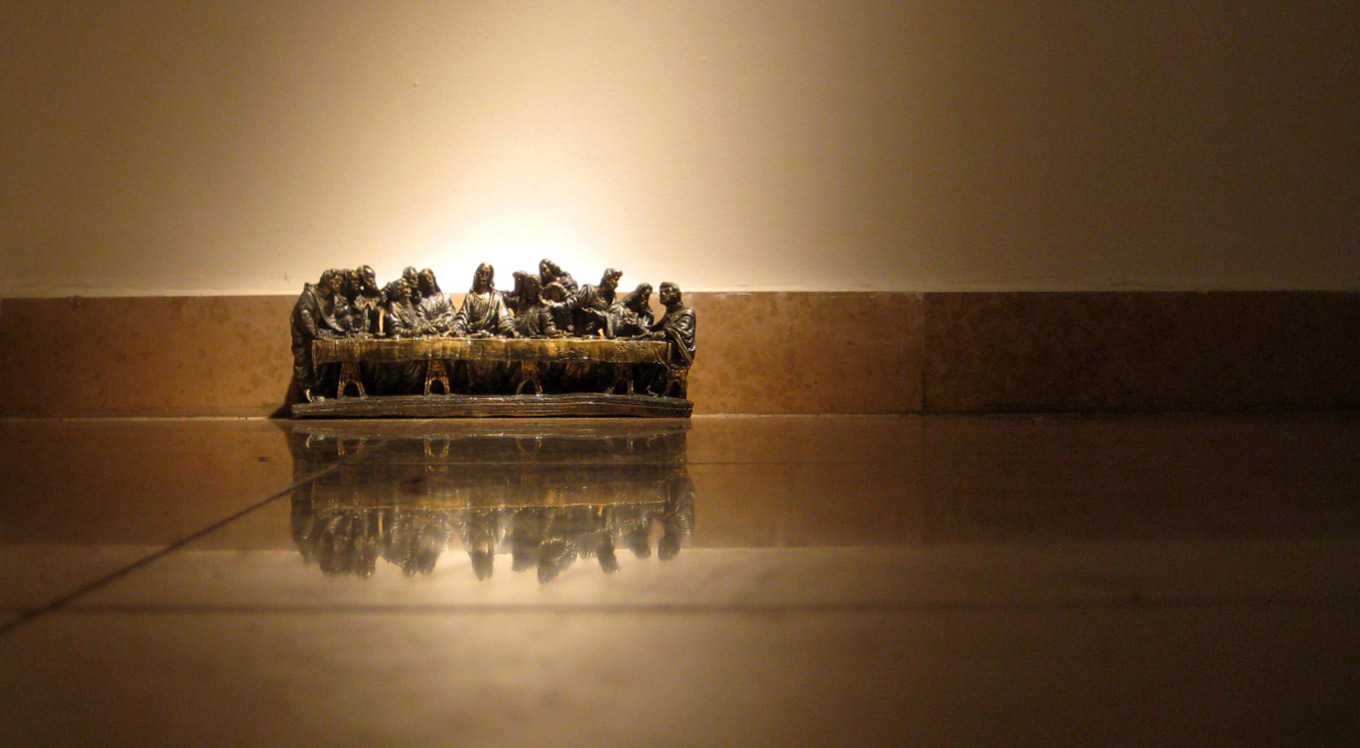 Last Supper, a detail on the candle